Bottom Line Up Front (BLUF): AWM is not a spin-off of, or inspired from the Black Lives Matter movement. Period. Today I take out the time to discuss the inception of AWM and how it has developed over the past (almost) two years.
The Good Idea Fairy.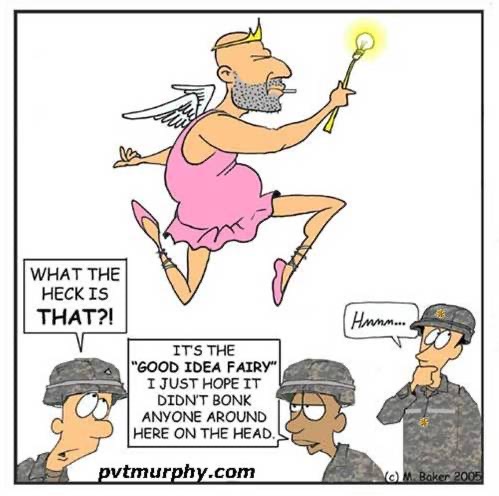 In September 2018, I was attending a career progression course in San Antonio, TX. One of my favorite mentors just so happened to be working where I was attending and I spent a lot of time in her office on my breaks. We discussed a lot of things and I spoke with her fondly of Carnival. At the time I was going through a lot of stress: meeting the demands of this course and trying to complete my dissertation at the same time. I was craving a carnival fix, and there was none to be found…I shared memories of it with her instead. Sharing this with her got me to actually engage in discussions with other leaders at the school house. Next thing you know, I was engaged in a Q&A with several people… broadening perspectives and sharing ideas.
I was told I should start an Instagram page as a frame of reference.
After much skepticism, I took her advice and agreed that a lot of people are visual learners. An IG page is but a photo and a few sentences, right? I could have friends or other interested parties go to my page so they could really see what it was all about.
#AmericanWinesMatter.
I literally sat in my mentor's office trying to think of a username. Lost and overwhelmed, I scrolled Instagram for inspiration. I was following a lot of carnival-related accounts on my personal IG so I decided to look to images for inspiration. I saw a black female with American flag in tow. Hashtag? #americanwinesmatter. After spending several days engaged in discussions with people (namely, African American women) about how they too were welcome to participate in carnival, this hashtag hit me hard and I said to myself "that's it!".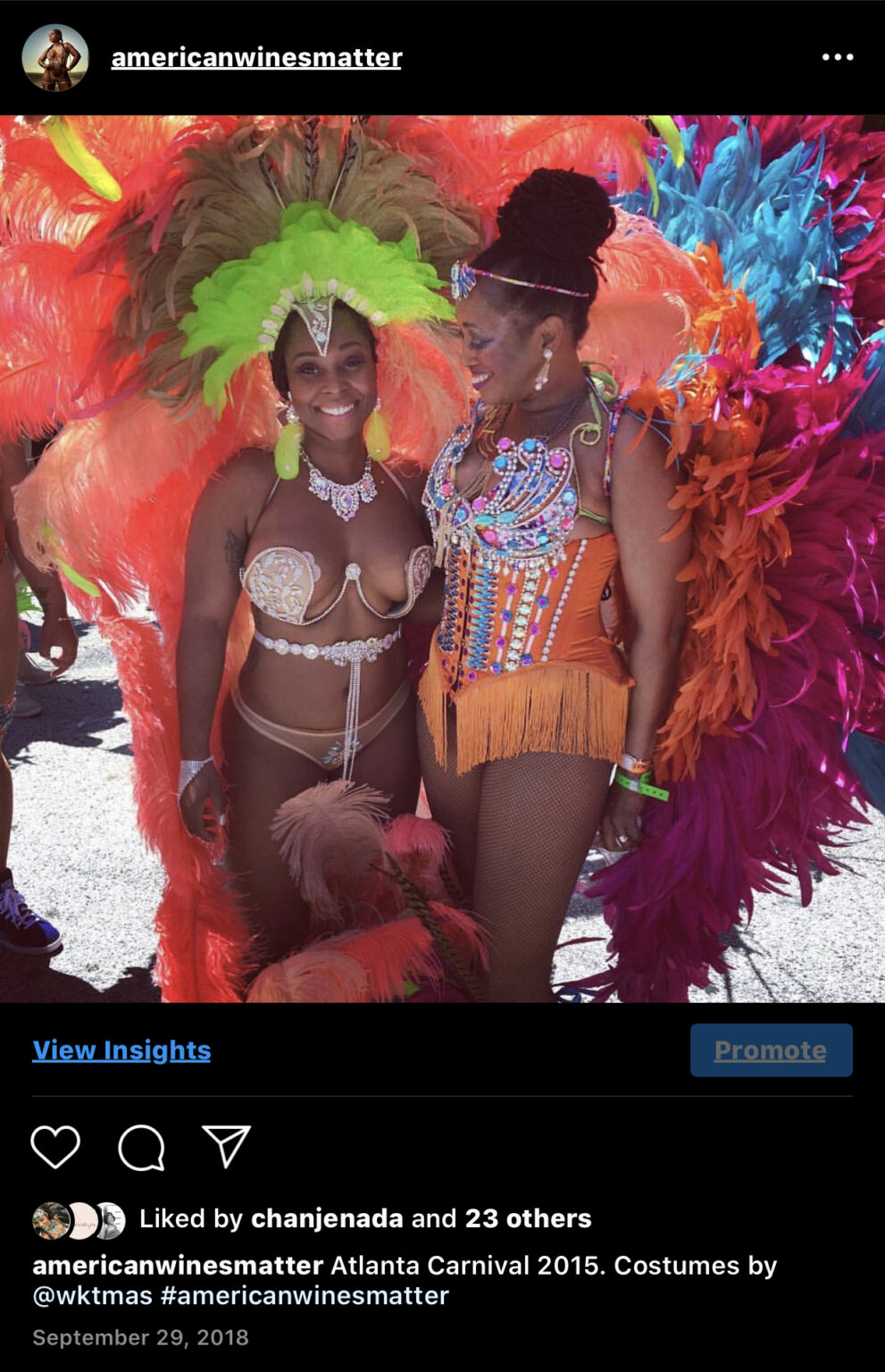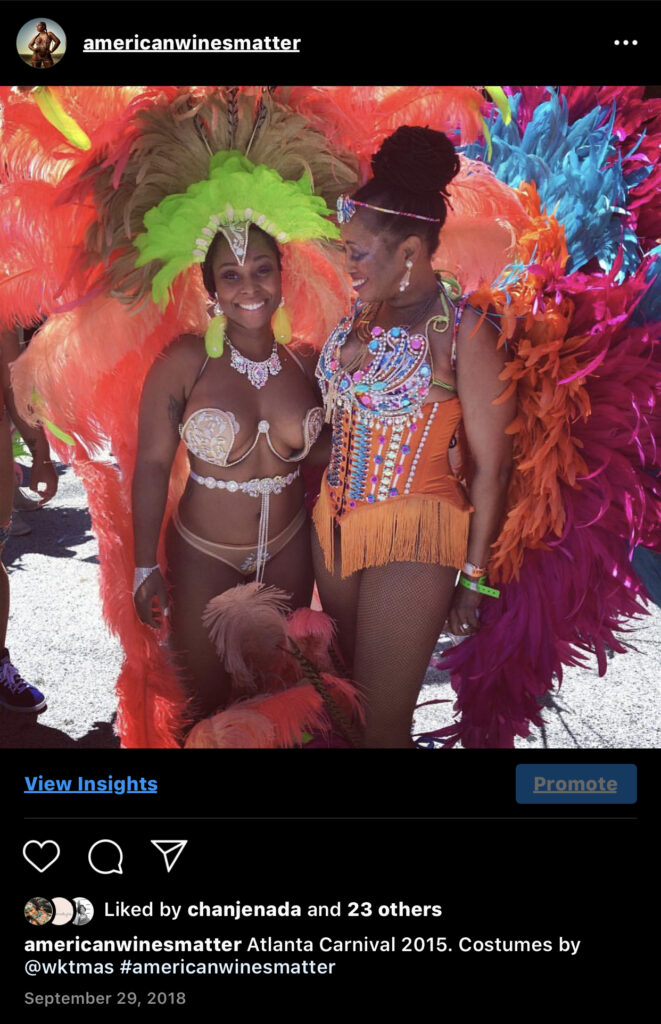 September 28, 2018 was my very first post on IG. I wasn't engaging in any carnivals for the rest of that year due to an upcoming move, so I posted a lot of throwback pictures.
It wasn't until 2019, that AWM started to actually grow. I met a few people on the road and we exchanged IG accounts. A lot of people really resonated with the username and would open up to me on the road and talk to me about their initial perceptions of carnival and how they came to overcome it. Over time, people sent me messages sharing stories about how they came to love carnival as well, and the challenges they faced being non-carribean, curvy, etc.
I guess the username began to generate a buzz wherever I went. Next thing you know I am sharing others' stories about other non-Caribbean people came to love mas. Deep discussions on my Instagram page and DM about cultural gaps and perceptions. It was through discussions with all my followers and mentors in the Caribbean community that I began to realize that there was a genuine need for a platform that encouraged people of all shapes and sizes to play mas. There was a need express that any individual can play mas regardless of their cultural background. There was a need to help others understand that mas is not just about wotless behavior and rum on the road. I was having discussions with other Caribbean people that couldn't even wrap their heads around the history of Carnival and wanted to know things such as "what does being half naked have to do with it?".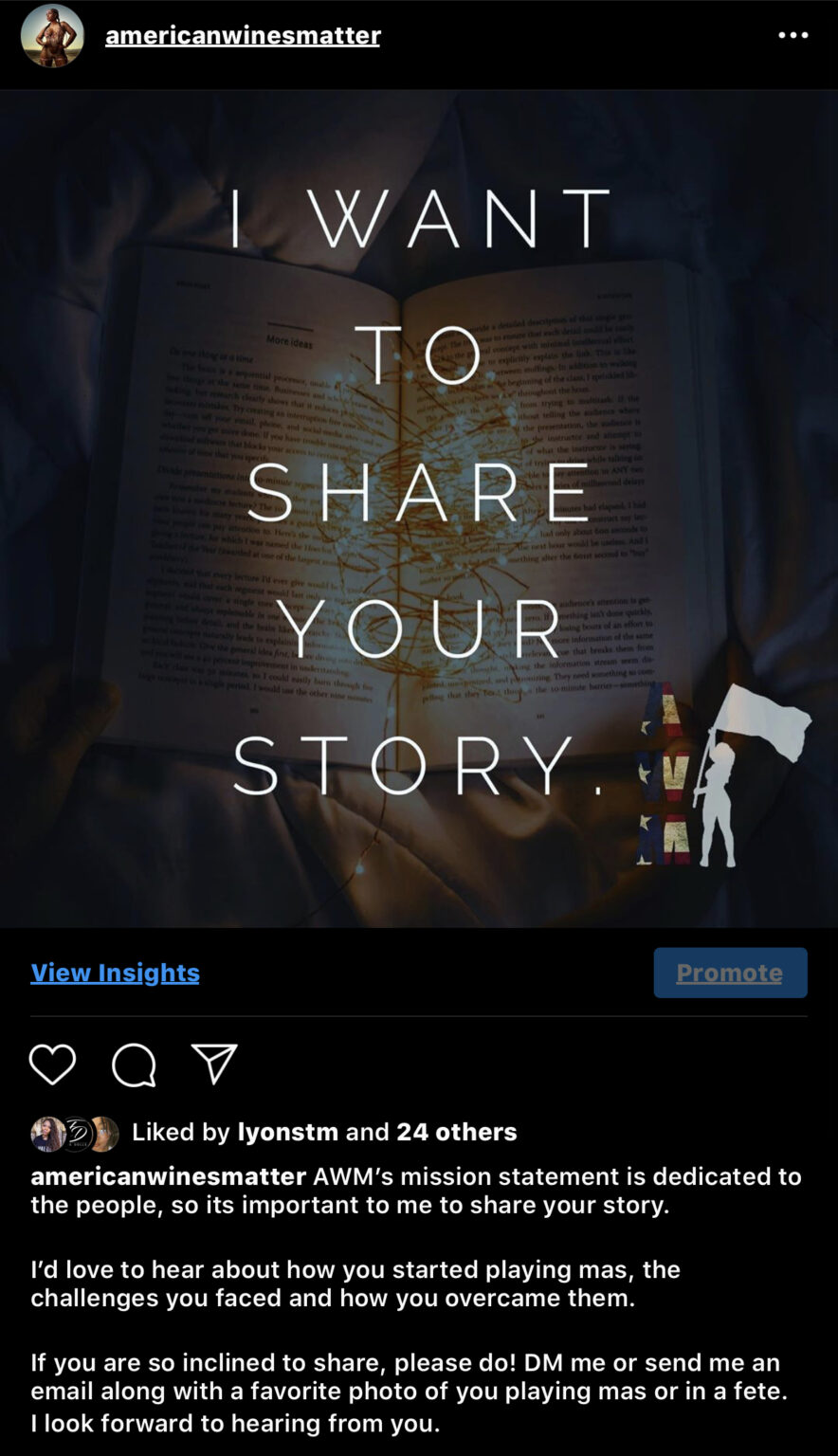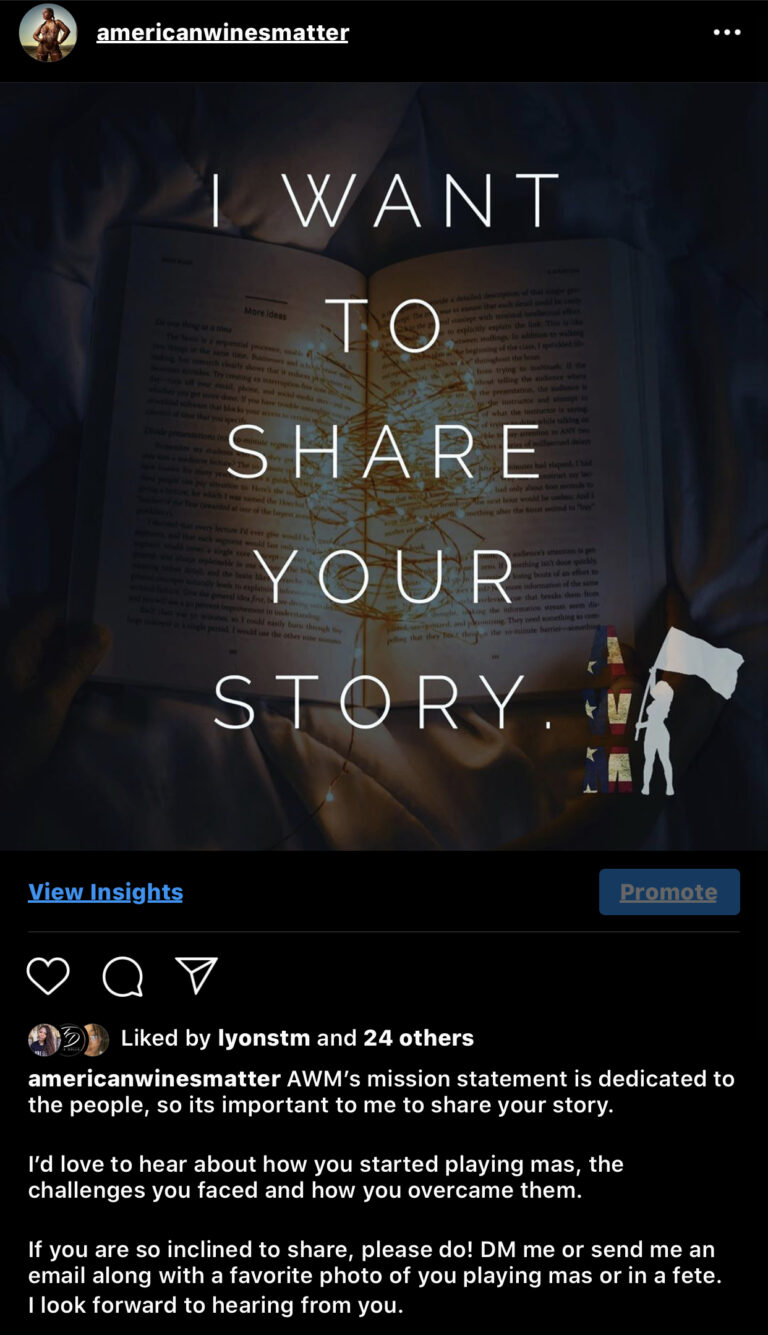 Forged by my Followers.
In late 2019 I was inspired by all my experiences and discussions I have had with those ive come in contact in-person and online, and developed a mission statement:
To shed light on an African American woman's perspective of discovering her roots embedded in Caribbean culture.
To capture the experiences of Caribbean mas, j'ouvert, fetes and other activities in means that inspires others to embrace the culture, and to dispel many misconceptions of those that do not understand its historical roots.
To share current and developing knowledge through my experiences. To spread awareness and love of soca and Caribbean mas to all those interested, especially those who feel that they are not included because of their cultural backgrounds.
To provide guidance/mentorship to experienced/ inexperienced masqueraders and revelers with tips and tricks to make their experiences smoother and less stressful.
To utilize my life experiences, gifts of intelligence, optimism and charisma to cultivate love of self in all women of varying shapes and sizes and to encourage them step outside their comfort zone to enjoy the Caribbean culture.
Evolution is Necessary.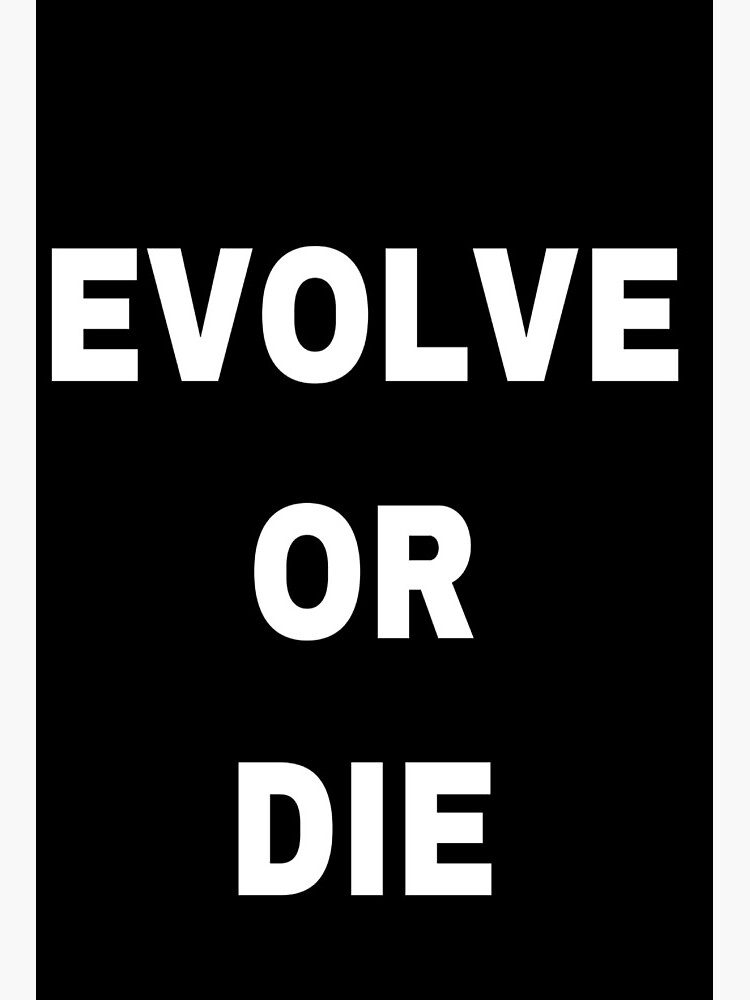 In the beginning, I never accepted the title as "influencer". I didn't want to associate with any type of branding, and was scared that my message would be muddied by the need to satisfy a sponsor. I didn't want people to pressure me about how I should present myself, speak, think or behave. I think the Military does a good job with that and I wasn't interested in dealing with that on my own dime and time.
But the phrase went from "Not a brand, but a movement"… to "More than a brand, it's a movement.".
WHY? Cause this sh** ain't cheap that's why. Building a website and maintaining it costs. Let's talk about a federally registered trademark, and content. I know that cellphone photos would only get me so far, I needed the quality. Fact of the matter is, Ive come to accept branding as an integral aspect of my platform. the funding has to come from somewhere or I would end up going broke running this platform that I have put more than 400 hours into over the past year. With the intent of selling my own products to funnel into this project I have been working on a federally registered trademark which is now it it's final stages.
COVID 19 has forced a lot of content creators to branch out in order to thrive. The current content that I have posted has placed more emphasis on other tenants of my mission statement (self-love, body positivity, masquerader tips, etc) but that does not mean the rest of the mission statement has been forgotten.
I am NOT and Opportunist.
As AWM has grown I have been attacked in discussion comments and my DMs. I've been told that it was lame. I have been accosted over the spelling of w(h)ine. I've been called several things in life, but one thing I don't take kindly to is the speculation that I am an opportunist.
I REALLY hate opportunists.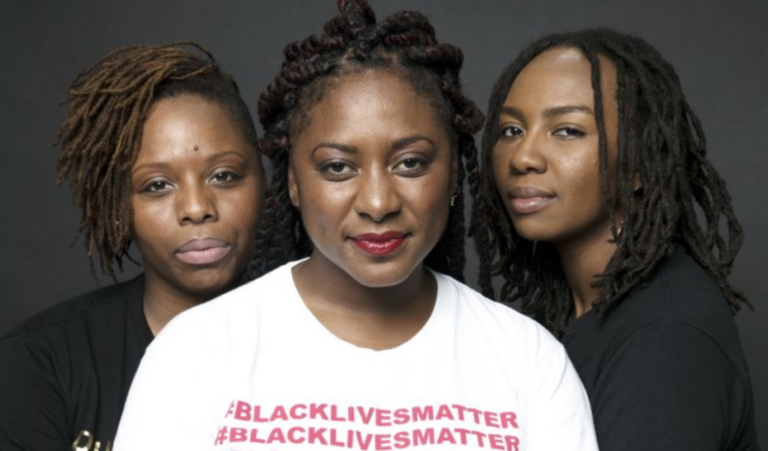 Black Lives Matter (BLM) was incepted in 2013 in response to the acquittal of George Zimmerman in the murder of Trayvon Martin. Since then, BLM has developed into a movement to fight the systemic demise of Black people.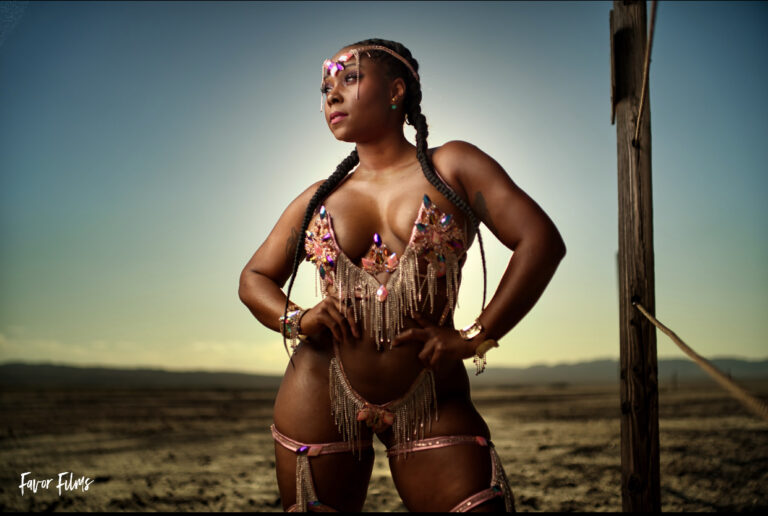 American Wines Matter (AWM) has developed as a platform for ALL people, with the goal of bridging cultural gaps, having tough discussions, discovering my blackness embedded in Caribbean culture, to spread cultural awareness, and to serve as a guide to new/prospective masqueraders. Let's get something straight: I have spent nearly 18 years and almost my whole adult life in the service of the American nation. AWM was also born with the idea of serving others. AWM is not about Tracey Lyons-White, AWM is about the people that inspired my mission statement in the first place.
And I get it. At first glance on an Instagram page you may just see a photo as you scroll past and a lot of new viewers would have no initial idea. They see a username and content. They don't see how many times I have reposted my mission statement and most people don't care to click the link on my website to review my mission statement to begin with. They don't get to see the story reposts about the culture. They don't see the live discussions I have had with several other platforms. They form opinions and keep scrolling.
I was hard pressed to build my website earlier this year and the extra time due to COVID-19 gave me the motivation. I thought to myself that a website would be useful to further explain what my platform is about only to STILL be met with occasional shade and concerns about my intent.
If anything, I've come to realize that no matter how much effort you put in to educating others, some people are just not going to take the time to hear what you have to say. This also confirms that regardless of what good you're trying to do for others, someone is ALWAYS going to have something negative to say about it. People thrive off criticism, it keeps them from taking a hard look at themselves.
Forward Thinking.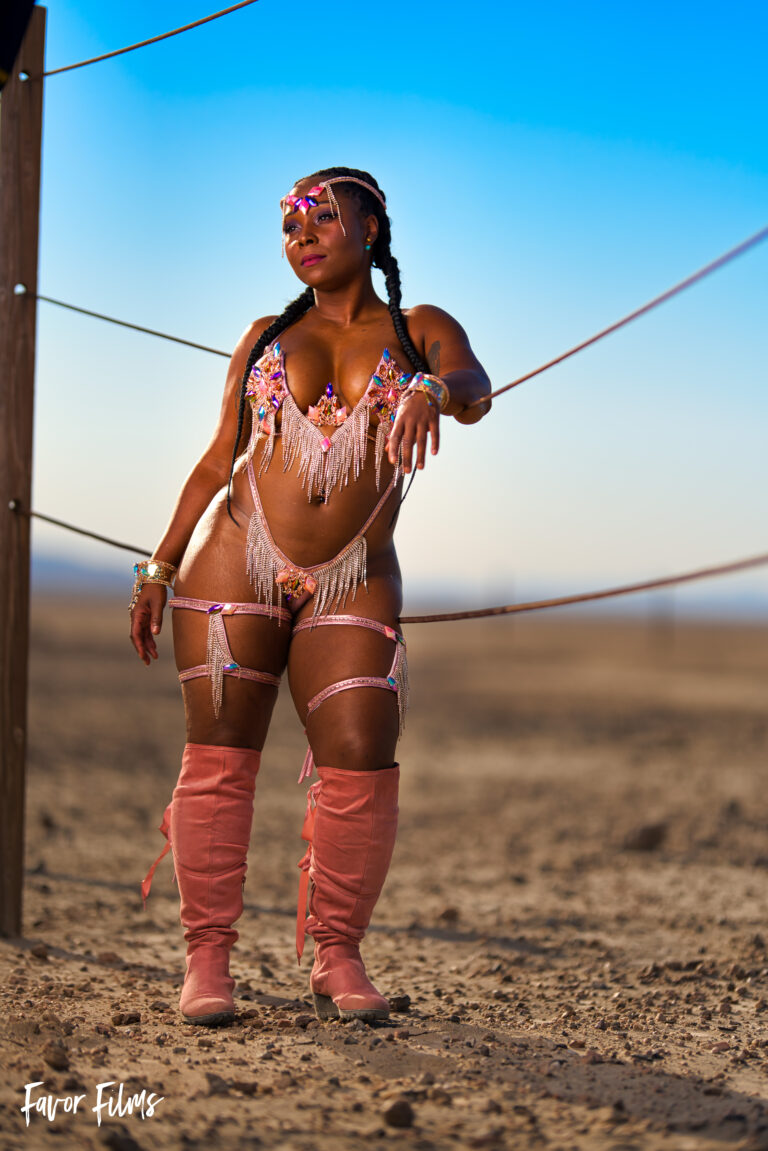 I am VERY sensitive to the current state of the Nation and would never in any fashion consider marketing this platform off the plight of a movement born to tackle the demise of my own BLACK PEOPLE. My trademarking process is nearly complete, which means there will definitely be no changes to my user handle. I have been exploring options to make very minimal modifications to the logo, but not at the expense of having to resubmit a trademark (which is very expensive, by the way). Curvy Wines Matter is still very much in its infancy (thanks to COVID19). While Curvy Wines Matter was directly born from AWM, I am sensitive to the fact that at this time anything that is resembling the BLM movement may not be well received. During this period, I will rebrand CWM.
Public approval is important, but to be honest, it's not more important than my mission statement. At the end of the day multiple platforms exist for your perusal. I highly encourage you to continue to evaluate other platforms that you may feel best resonates with your own needs and desires. As a (black) community I find that people spend a lot of time speaking negatively of other's genuine work instead of finding ways to contribute to the betterment of all. Help me bridge the gap between all communities. For the naysayers: I grew up under the saying "there's always someone that can do it better". If that's you, be my guest. It might be a great idea for you to build your very own platform instead of casting negative thoughts and perceptions of others' hard work. Let me know how that goes for you.