As the price of carnival costumes grow every year, and more people are asking how to get their beloved feathers back home to enjoy for a while.  In this blog, I will tell you how to travel with your carnival costume so you can repurpose or recycle it. Besides! You sent so much money, why not enjoy it for as long as possible? 
Your body wear is relatively simple to pack inside your luggage, especially if made from a basic bra or panty. Arm and leg pieces can be stored inside luggage as well.  Crowns and tiaras are made from wire. You can bend the wires flat or fold pieces in half to fit them in your luggage. There is a risk that beads or gems may fall off, but you can use a regular hot-glue gun once you return home.  I recommend storing all your body wear inside a bag for sanitation purposes and keeping gems that may fall off in one place. 
If your headpiece is intricate, you can also wear or carry it by hand through the airport and on the plane.  Yes, I have seen and done this.
Feather backpacks and collars
Wires serve as the foundation of backpacks and collars; The wire was bent as it was made, which means you can too!!  A collar may fit inside your luggage by folding, but a backpack is a different story.
The garment bag method is cost-efficient to get almost any backpack home.  You can fold the backpack and slide it inside the garment bag.  To make transportation easier, place a hanger inside the bag.  Other places you can stow your garment bag would be inside the overhead compartments or behind the last seat on the plane.  Alternatively, you can also check your garment bag when you arrive at the airport.  Finally, for extra security, you can place cardboard in the back and front of the garment bag if you are worried about rough handling during transport.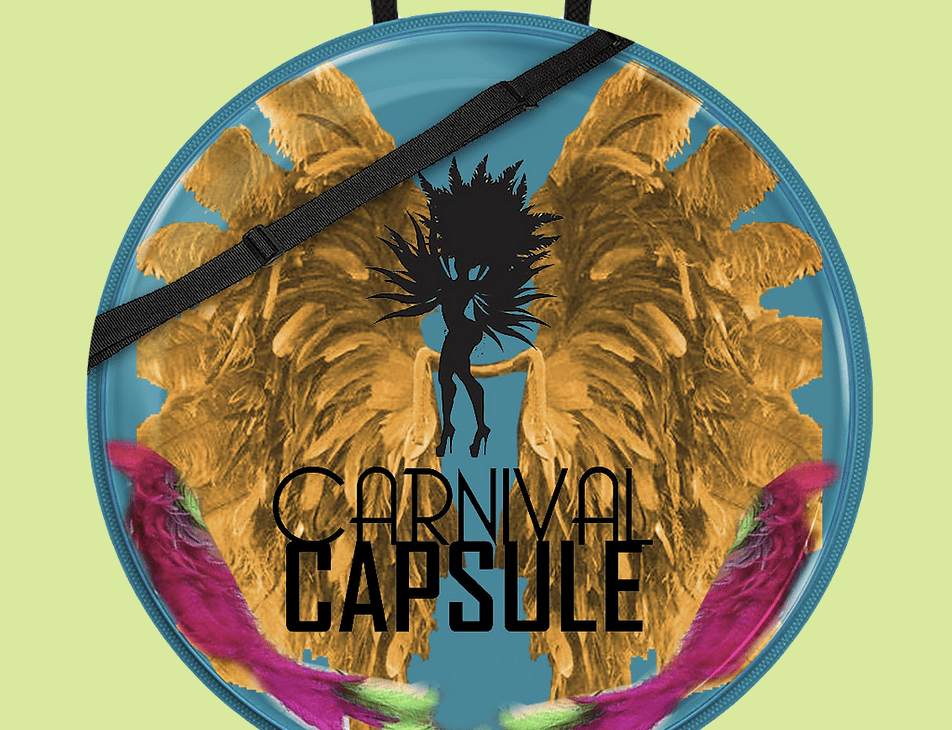 The carnival capsule is an innovative product designed by Tamara, a die-hard carnival chaser.  The carnival capsule has limitations that may not work for all masqueraders (specifically ultra-frontline queens).  Depending on the style of your backpack, some folding may be required.  You can fit multiple backpacks and all your feather pieces in this bag.  I did a review on this product and it is VERY sturdy. It is equipped with two sets of straps to secure your backpack. The cost of the carnival capsule is currently $100 (not including shipping). While this product does not work for me, it may be the perfect thing for you! If you are an avid carnival chaser that desires a luxe travel experience for your carnival pieces, be sure to check her out here. 
Traveling with your carnival costume can be a bit intimidating at first, but once you do it the first time it's a breeze! I hope this helps.  If you have any questions or comments, be sure to leave them below, or email: hello@americanwinesmatter.com