November 2019. I gathered my crew and started to get ready for Carnival in Jamaica.  We waited until we saw all the band launches before we can to a decision: Xodus would be the best fit for the crew.  Shortly after Trinidad carnival, COVID-19 became very real. Jamaica carnival was "postponed" until October 2020 because of the pandemic. Then postponed again. Then postponed again…this time, with no future date in sight.
A lot of people asked about refunds.  I understood the situation and asked for dialogue about shipping of the costume that I paid in FULL March 2020.  But after all that was said and done, I was left to feel that my faith in the business was taken advantage of in the long run.
Below is a detail of my experience to get resolution all the way up to my bank dispute results. I  also shared my opinion on how my experience with Xodus carnival has taught me to never again exercise that kind of faith in any mas band when it comes to cancellations and postponements.
I was optimistic about Jamaica Carnival.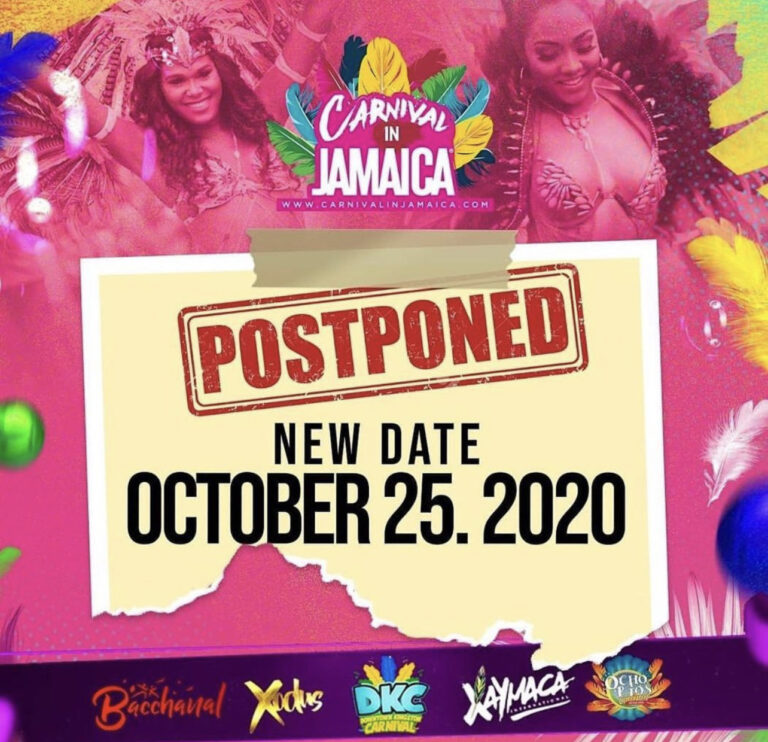 I remember talking to people that demanded refunds right away. When I look back on it, I wonder if they were blessed with a special sense, because THEY HAD IT RIGHT ALL ALONG. Meanwhile, I was empathizing with the Jamaica carnvial mas bands. We were but six weeks out from Jamaica carnival when it was postponed, and I assumed that production for the costumes were probably mostly done. How do you give people money back that has already been spent?
I feared that bankrupting mas bands would illuminate a grim future for Jamaica carnival. So, I decided to practice faith in the business and wait until October 2020.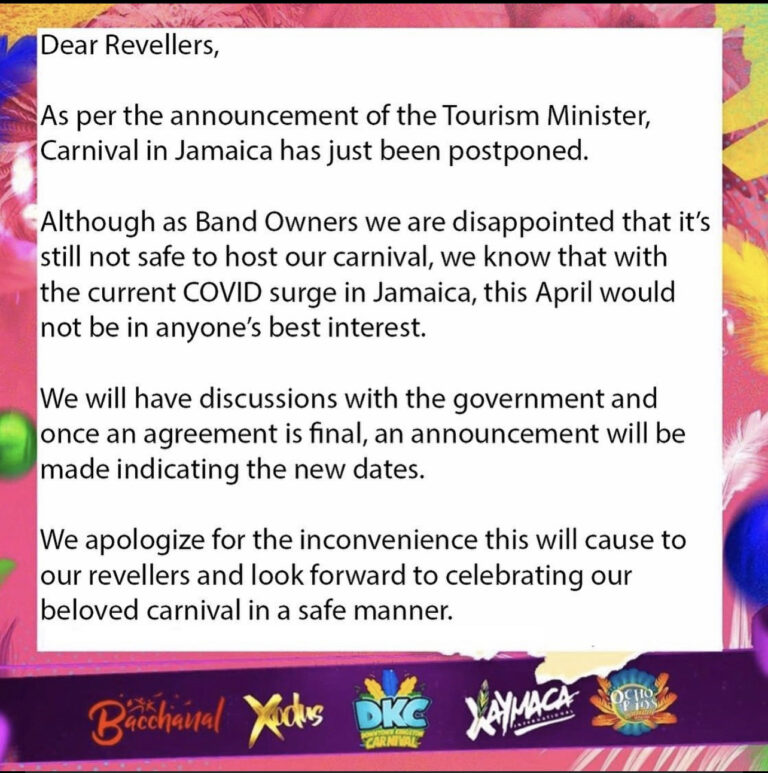 (Reasonably) seeking solutions.
Jamaica carnival was "postponed" two more times. The last one was met with no future date.  I wasn't really upset about this because Jamaica had a low vaccination rate, and a rise in active COVID-19 cases.  I thought about the island country's medical infrastructure. As a physician assistant, postponing Jamaica carnival made total sense.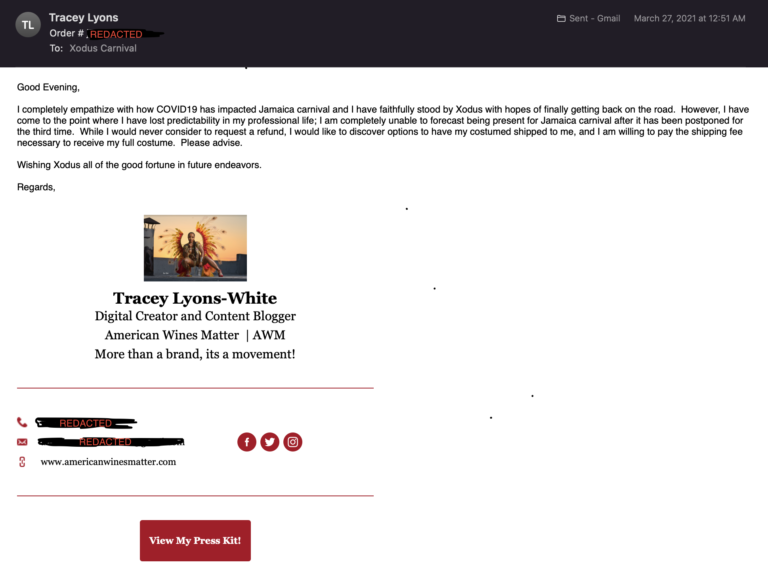 Xodus carnival turned their comments off on instagram.  I reached out to the band via email about possibly getting my costume. I went to login to my account with Xodus only to find that although their website was running, the system they used to maintain record of my payments was no longer available.  I received no response to the email, and there was no phone number listed to call.  Luckily, I still had my bank transactions on record and my email confirmations of all my payments.
The bank dispute with Xodus.
As a last ditch effort, I took my issue to my bank.  Within less than 7 business days, my bank received a response from the merchant.  If only they could have responded to my emails that quickly because its been exactly 8 months to the DAY since I contacted them. 
Their response was the following:
I allegedly identified the wrong merchant. 
I was the one that cancelled attending Jamaica carnival.
After discussing this with the bank representative, she also revealed that a lot of businesses have been intentionally dragging their customers out past the six month mark JUST so they would not be able to dispute with their banks.
Just typing #2 makes me furious all over again.  I felt duped. Me, a first time masquerader for Jamaica carnival. I got seriously played by the band I exercised so much faith. Never again.
I personally would love to still experience Jamaica carnival in the future, but I intend to go with a much more shrewd and unforgiving guise over my coin. This is an almost $900 lesson that I will never forget. Unless I personally know the band members, I will never again exercise that much faith in a business that might be prepared to have its customers eat the risk of unforseen events. I hope to never see another pandemic in this lifetime. But if it happens again, Im going to just outright demand a refund on the spot. Sorry, not sorry.