I have been playing Mas in the states since 2015 and was overdue for my first overseas jump. Why don't we start with the mothership? Im talking about Trinidad Carnival! Work life kept me from attending in 2019, but I wasn't missing Trinidad in 2020.
Trinidad Carnival Band Launch
The Festival of the Bands (FOB) took place on July 20, 2019 with the bands that fall under the Tribe umbrella. Tribe is actually a company that has several bands, namely six. These bands include Tribe, Lost Tribe, Rogue, Bliss, Harts, and Pure. For the experience, I decided to go with the most popular bands this year for my first jump. I was not disappointed in watching the footage online. I originally wanted to jump with Tribe, but I got frustrated with the whole registration process. For my sake, I decided to find a band that was a bit less stressful to register with. I didn't really have to do a search. The opportunity came to me.
I was really intrigued by Lost Tribe's (LT) concept of no feathers. I thought it would be amazing to take on my first overseas mas experience with a more traditional but forward-thinking concept. The theme was Anansi, inspired by the African folklore tales. And then, I saw the costumes. Tau (The lion) stole my heart.
Let's get something straight. All of Lost Tribe's costumes were beautifully thought out and executed. But my last name is Lyons, I have lions all over my house and its the family's emblem. I was going to play mas as a f*****g lion. Tau was a no-brainer.
Shortly after I commented on a Lost Tribe post, I immediately had a committee member reach out to me in my DM to get my email address. Is this real life?
LaToya was amazing. Once she compiled enough email addresses, she sent us out periodic emails to let us know about registration and promptly fielded any questions that I could have possibly had.
When it came time for registration, I had a link in my email before it was publicly announced registration was even available. And guess what?
I had access to choose from all the costumes.
Now, this was a big deal because prior to dealing with LT, I had registered with Tribe in 2018, (but couldn't go due to work requirements) and initially attempted to register first with Tribe for 2020. I really didn't like the fact that I was confined to choose from only one section, and wasn't even offered the option of Frontline, Midline or Backline. It was like I was given what they were going to give me even if that was not what I asked for. For example, I emailed a committee member with Tribe in the Fenix section and asked for Frontline. They sent me a link for a backline costume without explanation.
So I happily registered in Tau. I was able to choose the base costume or add bells and whistles such as a large (Mane) backpack, gloves, and side bag with no problems. I was excited!
The Lost Tribe Support Group
LT even has a Facebook support group. Some members had been in LT for years. I really enjoyed following the group the pursing months. We exchanged tips and tricks and shared our excitement. The admins monitored and approved the posts so there was no worry for any spam or any drama in the group.
What was supposed to be a trip of me and two other girls turned into a trip for two… And THEN… I actually ended up homeless and solo a week before the trip and I turned to this group for help. They were amazing and helped me evaluate a lot of options. For this group, I am insanely grateful.
Costume Pickup
As large as Trinidad Carnival is, let alone Lost Tribe, I was insanely blown away by the ease of pickup. Costume distribution was at the Cascadia Hotel. The setup and flow were seamless.
Once I picked up all my pieces, I went to another part of the hotel to inventory all the items. This was optional, but provided I ended up staying more than 40 minutes from Port of Spain (because of the last-minute homeless issue) it was very important that I had all assurance that every item was in the box.
I'm glad that I did this because we discovered that my gloves were missing. Unfortunately, I would have to wait a couple of days before I could get them, but they were very apologetic and one of the staff members provided me her personal contact number. I slid the bodywear over my clothes and everything fit perfectly and everything looked as advertised. They even added in a really nice red pushup bra for additional coverage. I was very happy overall.
I was able to go back to the Cascadia hotel before soca brainwash and get my precious claws with no hiccups.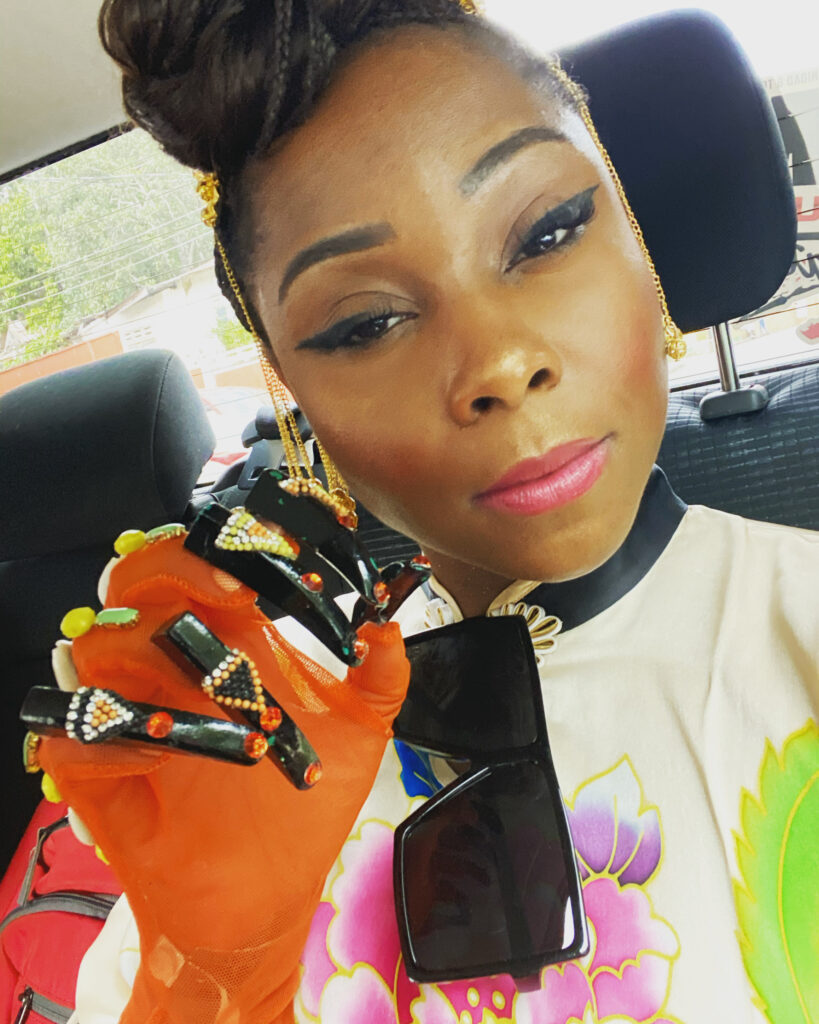 Carnival Monday and Carnival Tuesday
On Carnival Monday, we all wore white as we emulated Guardians of the White Cloth from the Anansi tales. Lost Tribe issued us panels of white cloth to go with whatever we chose to wear or whatever accessories we had. Men received white T-shirts. Before distribution, they launched an accessory line just for us by Sanianitos to compliment our looks. I purchased their rings set, decorated choker, earrings, crown, and headpiece. Once I got my Monday-wear together, I decided to revamp my headpiece and turn it into a choker for use instead.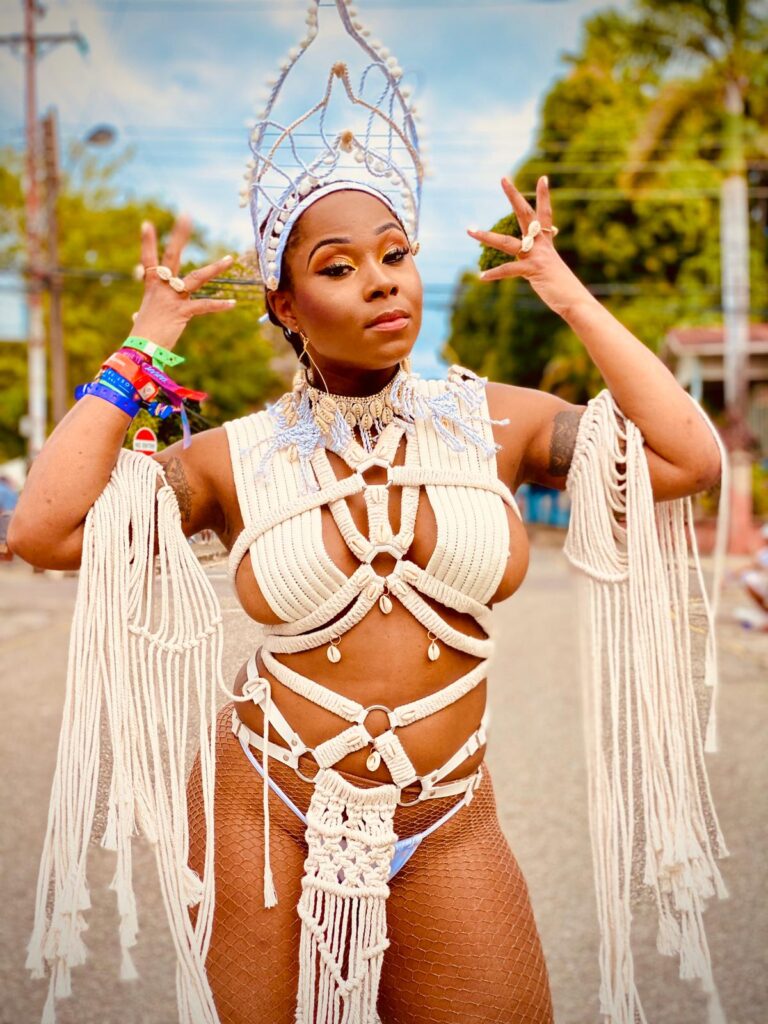 I've gone out to play mas solo before, but this time it was a bit different. I was in Trinidad jumping solo! Everyone seemed very warm and friendly, but for some reason I found myself wishing that I had a crew. I still had an amazing time on the road with Lost Tribe. The food was very filling and available fro start to finish, and the drinks never ran out. I was told that LT was for the "older" crowd and to expect to hear nothing but Groovy Soca, but that was not so. The entertainment was top-notch, with a healthy blend of Groovy and Power Soca. My favorite part of Carnival Tuesday was chipping down with the Laventille Rhythm Section. They would have played all day and I would have not minded one bit. I never saw the reported massage person or rest-truck, but I did really enjoy the air-conditioned mobile bathroom. There were even attendants available to help me take off my backpack, and help me get on and off the steps of the trailer.
After a time, we made our way back to the rest area for a couple of hours, which I really loved! Lots of food, treats, shade, and blankets for lay.
I'm going to lie, I was defeated on Carnival Monday (because I had done J'ouvert the morning of), was already not feeling well that day so I called it quits once we got back to the rest point. Carnival Tuesday I made it to the Soca Drome. As it got dark, I got a little paranoid and called it a night. Getting transportation out of Port of Spain that day was very difficult. Honestly, if I wasn't alone, It would have been a completely different story. The vibe was so high I probably would have stayed out all night, but safety first.
Summary
LT has phenomenal customer service and a well-organized distribution. Hiccups are handled in a very professional manner.
LT is a fantastic option for masqueraders who are looking for a more traditional approach to their experience.
LT is a fantastic option for those who don't care for the stress of trying to register with other popular bands for Trinidad Carnival.
LT allows their masqueraders to choose freely from any section at registration.
Will I see LT in 2021? Absolutely.