I had no clue about Charlotte Caribbean Carnival until I moved back to the east coast. For the most part, I knew only of Caribmask, as I had played mas there in 2019. But Charlotte Caribbean Carnival was June 24-26th.  Here's my review of my road experience with Island Buzz.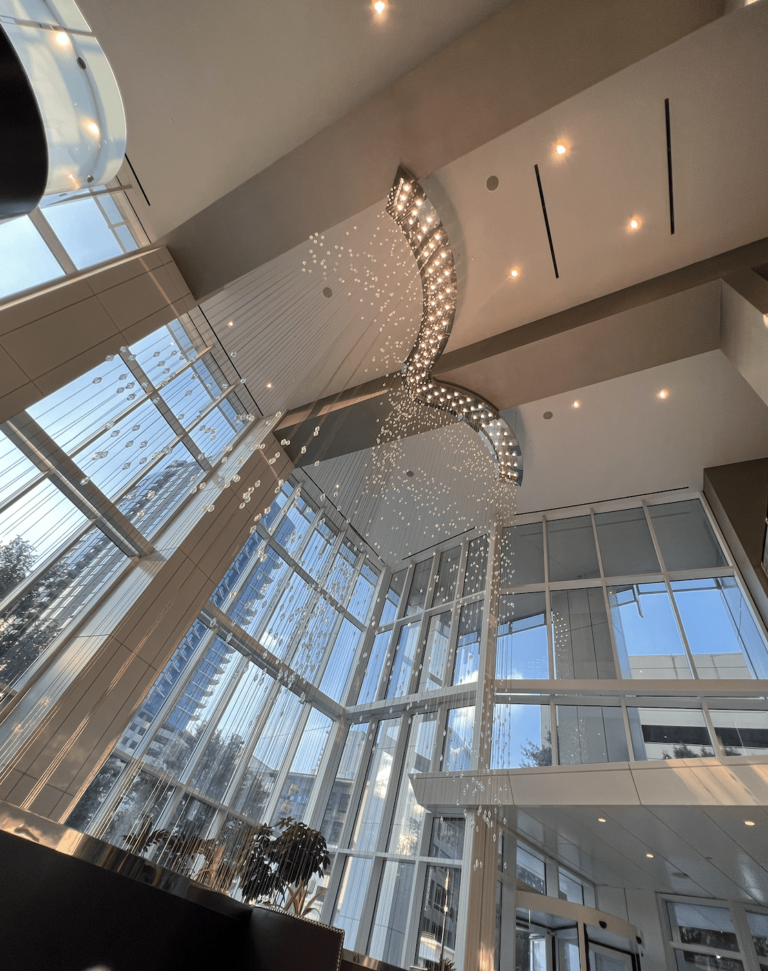 As a Diamond Elite member and Intercontinental Ambassador, I try my best to rack up as many loyalty points for that dream vacation to the Maldives.  I stayed at the Kimpton Tyron Park Hotel, which is a short 7 minute drive to the parade route.  I've been fostering kittens since my dear Tara crossed the rainbow bridge in March, and decided to take them with me.  What I love about Kimpton Hotels is that pets stay for FREE.  As a Diamond Elite member, I also enjoyed a complimentary room upgrade, and breakfast in the mornings. Situated in downtown Charlotte things got noisy at night, but didn't keep me from sleeping.
On the Road with Island Buzz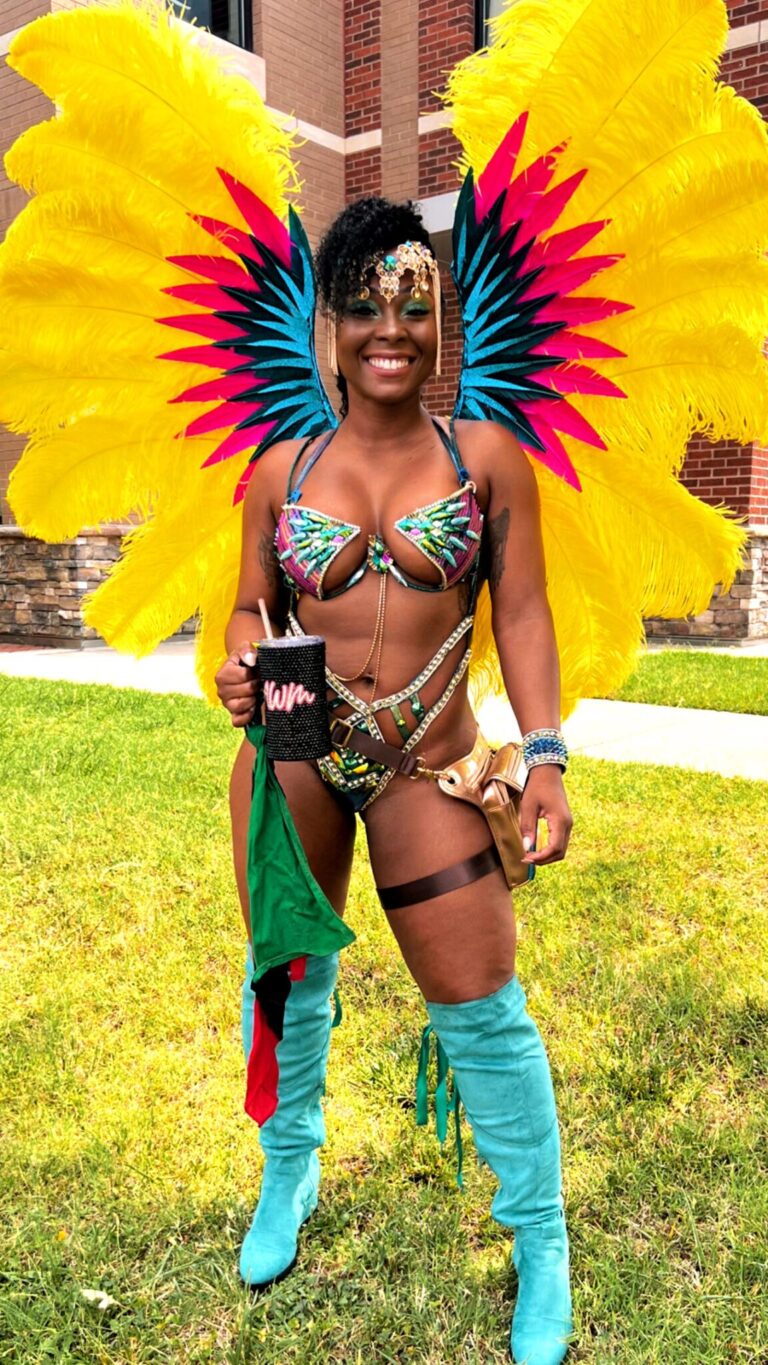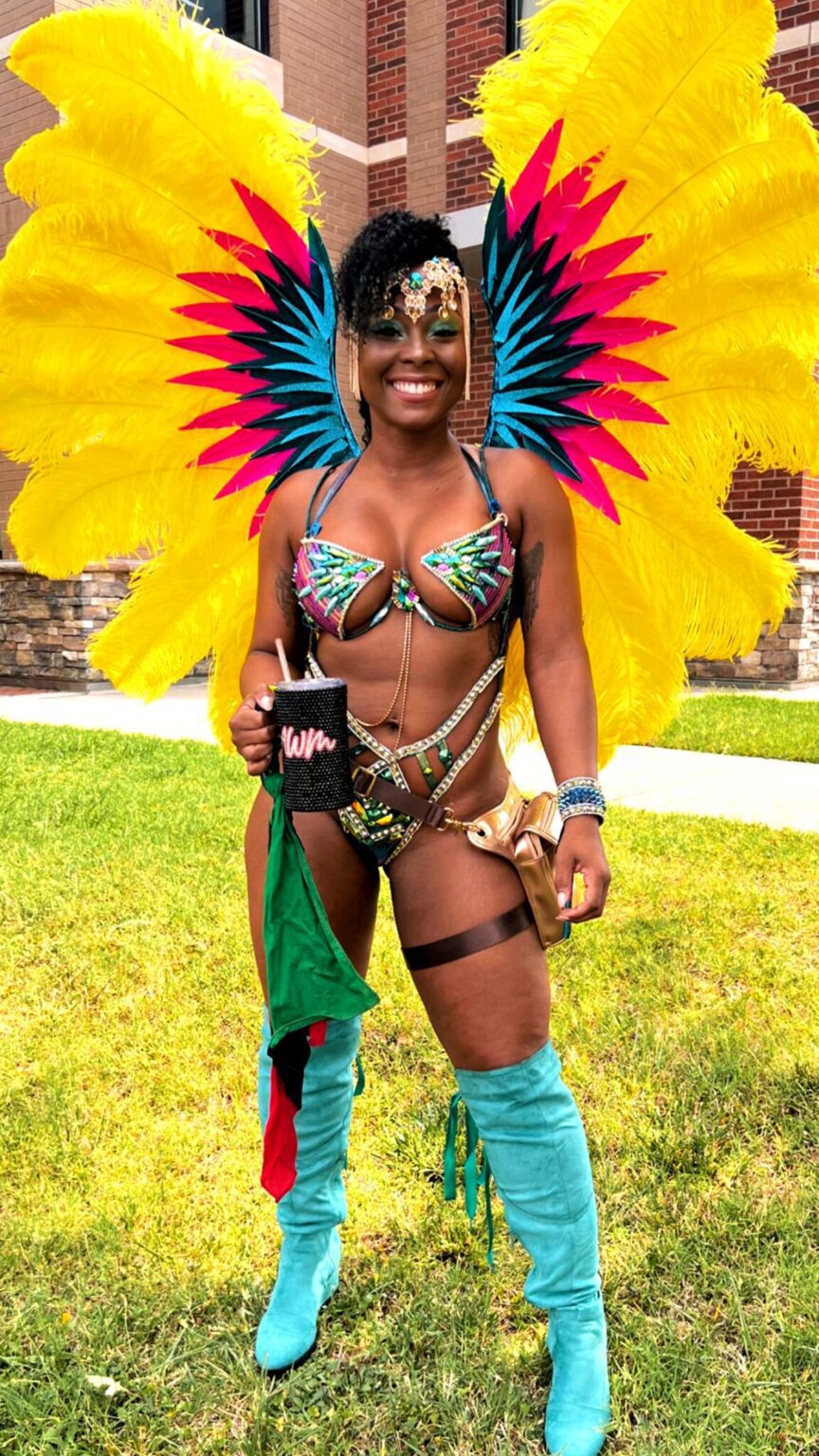 Island Buzz (CLT) is a traveling band and section.  Like Unity Mas Band, masqueraders who purchase a costume can reuse at different locations for a significantly reduced fee.  If you are a budget masquerader hunting a great vibe, be sure to check them out.
The band leader (Tiffany) was highly responsive to my inquiries.  Registration was very easy, and the payment schedule was easy to follow.  Carnival costumes can be a bit pricey, and I liked how Island Buzz offered Afterpay as a payment method.  With hopes that carnival will be more accessible (affordable),  I wonder if other bands will offer this in the future.
2 days before distribution, I received an email from the band leader stating that the designer had not fulfilled costume orders in its entirety.  The following day, I got another email about how backpacks were en route. She said she had purchased body wear in NY for us to wear. 
Still confused, I contacted Tiffany for expectation management.  She conceded that she had backpacks and bras, but alternate arm pieces, head pieces, and panties.  
When I arrived at the distribution point, I was in and out within 25 minutes. The feather backpack wasn't compete, but I didn't notice until much later. The alternate headpiece was cute, the panty was an acceptable replacement, but there were no shoulder pieces.  The leg pieces were very small, so I decided to use them as bracelets.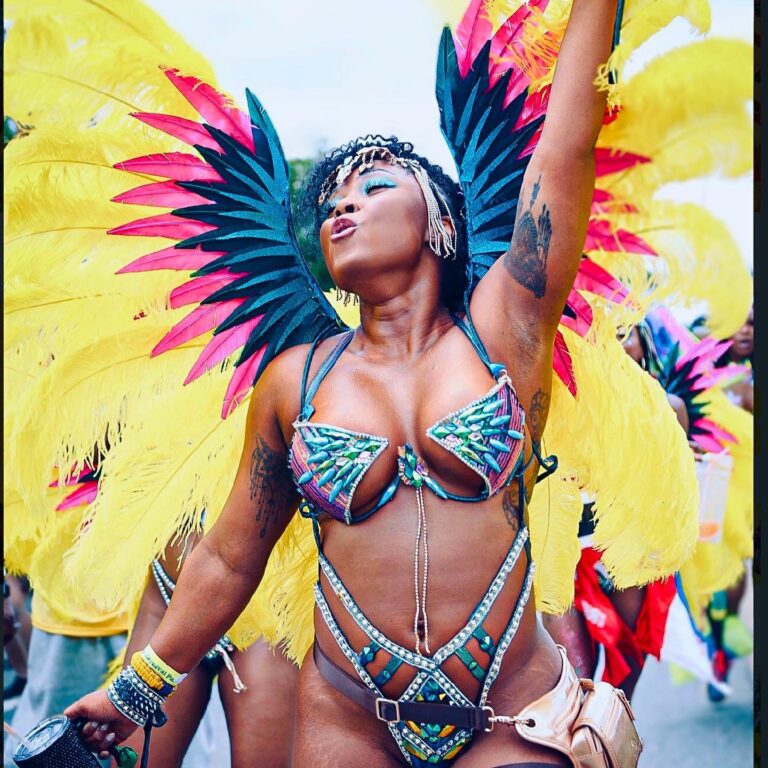 The parade was scheduled to start at 11 am.  The band leader stated she wanted masqueraders at the start point by 10am, but I knew better.  When I arrived at 11:22, the truck was not there.  I looked around and took photos with other masqueraders, but noticed many were wearing their backpacks upside down.  At distribution, the shoulder part of the wire was not bent, and many masqueraders had to figure it out themselves. But I helped as many as possible until the parade started.  The masqueraders didn't have cups, but there was plenty of bottled water handed out, and rum punch in pouches. I appreciated that no litter was left on the road because the truck was ready to take any trash. 
There was only one truck on the road; Island Buzz was in the front, while other masqueraders and T-shirt bands trailed behind.  Despite the complications, the road experience was a lot of fun. OnTrack played all the right tunes, which maintained the energy.  The parade lasted 3/4 of a mile, and I was sad that it was over so quickly. A major highlight for me was the onlookers who brought their dogs. Naturally, I had a good time petting as many as possible. The parade ended once we were inside the village, and masqueraders who knew the dance routine took to the stage and had their fun.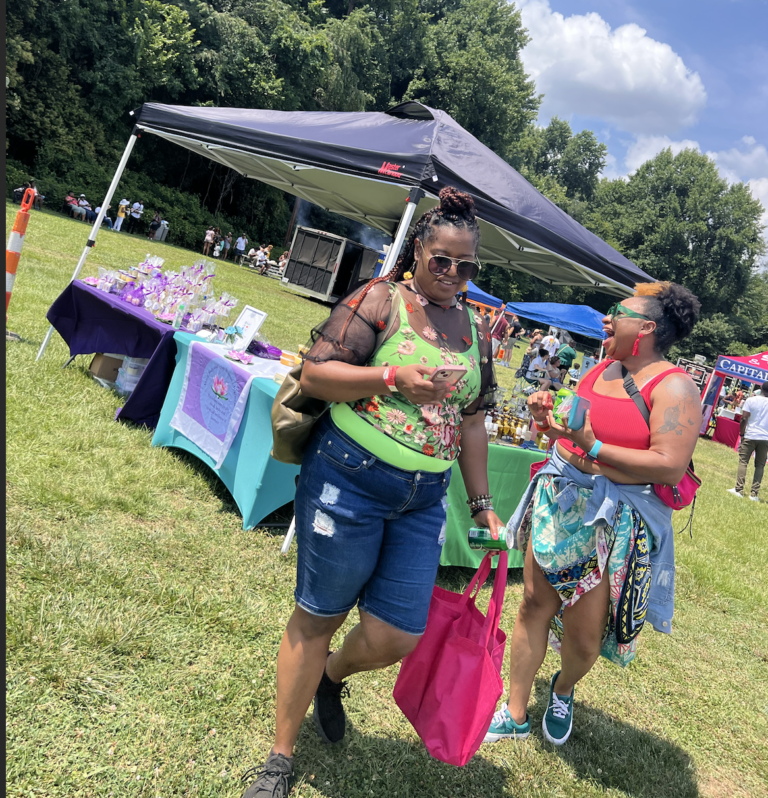 The village had great attendance and plenty of vendors.  Unfortunately, bathrooms were initially nowhere to be found, and I ended up making my way to the bushes.  Island Buzz arranged hot food for its masqueraders, and I enjoyed curry chicken, rice and peas.  Charlotte's Ms. Haiti and Carnival queen performed.  Later that day, Mr. Killa stole the show.
The Black Hebrew Israelites...
As I left the carnival village, outside stood a military-style formation of 100+ men chanting songs for women to cover up their bodies. With no police present.
"Hey sister….. (inaudible) in a dress… just make sure… it does down… way past your knees…"
"hey sister… be effeminate please…. Wear a dress…. Cover up… your body."
I initially laughed… until I decided to leave.  Never in my life have I ever questioned my safety at carnival until that day.  I looked at the map and breathed a sigh of relief that I would have to walk in the opposite direction of where they were posted.   Once I got to my car, I found myself filled with pure rage.  The day after Roe v. Wade was overturned, I faced a formation of black men slut-shaming the culture and my body, while pointing a camera on me.  I respect the right to protest, but it must be done legally.   They MUST know how to do a legal protest, but they waited until all the police were gone to come out to shame and intimidate women with their massive formation. I was TRIGGERED.  As I was leaving, I saw Charlotte PD headed in their direction. I hope they were forced to disperse.
Charlotte Caribbean Carnival is one of those events that I can comfortably say is a great way to get started with participating in carnival.  The larger carnival events can be overwhelming, and smaller events are definitely more budget friendly.  Don't be afraid to start small before you work your way up.
The Black Hebrew Israelites are problematic as HELL.  First of all, who comes to someone's cultural event to shame it? Secondly, if you are going to protest, protest legally, so everyone present feels safe.  Rumor has it they attempted to join the parade as a band. I swear people are buying audacity in bulk these days (I got that phrase from a follower).
Island Buzz was the only costume band on the road, followed by three other tee-shirt bands.  I would definitely like to see more costume bands, but I love seeing T-shirt bands, as not everyone can afford a costume. Everyone should catch a vibe at their price point!
I would like CLT carnival communication to improve. I purchased a ticket for J'ouvert and anticipated a separate email as indicated in their IG posts. No one was available to explain that the address was on the confirmation email, and was not a separate email from Charlotte Caribbean Carnival. There were several patrons asking the location of J'ouvert, with no response. I don't know why the venue was so close-hold, but if there is no one available to assist patrons, the address needs to be widely known. Provided I paid to attend, I still feel very miffed by that experience.
There's always three sides to any story, but I appreciate Tiffany's efforts to track down our feather work and purchase body wear (on top of what she already spent) to ensure we all had costumes to wear that day. Although a small road experience, Island Buzz was definitely buzzin'. If you're interested in Island Buzz, they will be on the road at Jacksonville Carnival, Tallahassee Carnival and Caribmask (Raleigh). They also have a section with Party Room Squad for Miami Carnival 2022.