I was supposed to attend Atlanta-DeKalb Carnival this year. Due to an unexpected turn of events, Entice Mas announced a move to the (downtown) Atlanta Carnival sometime after 6:30am carnival morning.  I looked forward to returning to where my carnival love story all began.  But at the end of it all, I just hung on for the ride and focused on making the absolute best of everything. 
If you aren't aware, Atlanta-DeKalb Carnival was cancelled after 11pm the night prior. Some bands couldn't migrate downtown at such short notice. As a result, many put their costumes away and found something else to do that day.  Luckily for Entice masqueraders, we got a road experience.
Vaval Weekend's Koölər Fete
What was supposed to be an outdoor event turned suddenly indoors due to a noise complaint.  As a result, the DJ turned off the music for a while, and the team moved everything inside the venue. This happened before I could get there.  But when I arrived? It was vibes.  I don't drink a lot of alcohol, so it didn't make sense to buy into a cooler. Instead, I got a drink at the bar.  I arrived late to the event, but the girls I was with had such a great time, and it showed!  One more drink later, and I executed my designated driver duties.  But I can tell you that for the time I was there, it was a great vibe. I wish I could have stayed longer.  Of all the fetes we attended, the girls said Koeler was #1, hands down.
Overdose ATL: "Truck Stop Edition" was hosted by Spoogy the Boss.  I enjoyed a large truck fitted with an amazing sound system, and the bar served top-shelf alcohol.  We enjoyed different genres of Caribbean music; Soca did not reign supreme at this fete.  I just scoped the scene and took in the postive energy. Things went a little left when a young lady tried to brace herself for a wuk up my holding on to our table.  The table folded and sis went flying. Luckily for us, we had already finished off the Casamigo's.  I don't remember seeing any food vendors inside the venue, but I enjoyed the doubles served outside it.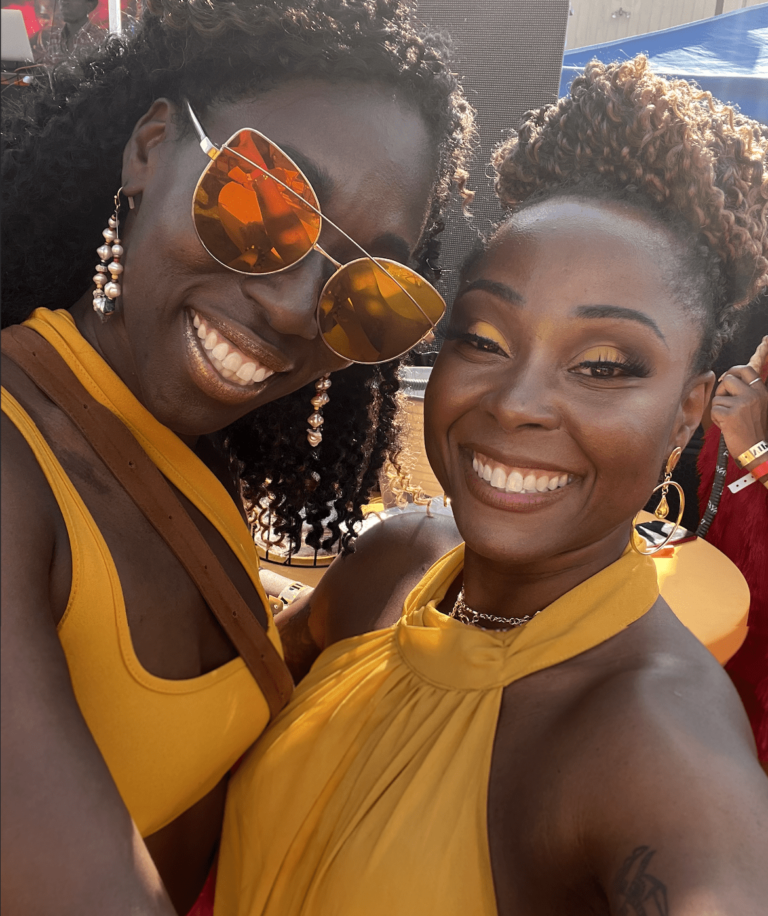 The Wolfpack Experience has a solid reputation for curating some of the best events in New York.  The event started a little late, but when things ramped up, I enjoyed myself. We enjoyed a table and bottle in the VIP section and hookah while taking on the vibes of strictly Soca music.  On the cusp of moderate to severe intoxication, I had to take it down several notches. We left earlier than we wanted to go to Colorgasm, and we all expressed bitterness.  This was my favorite fete.  My girls ranked it #2.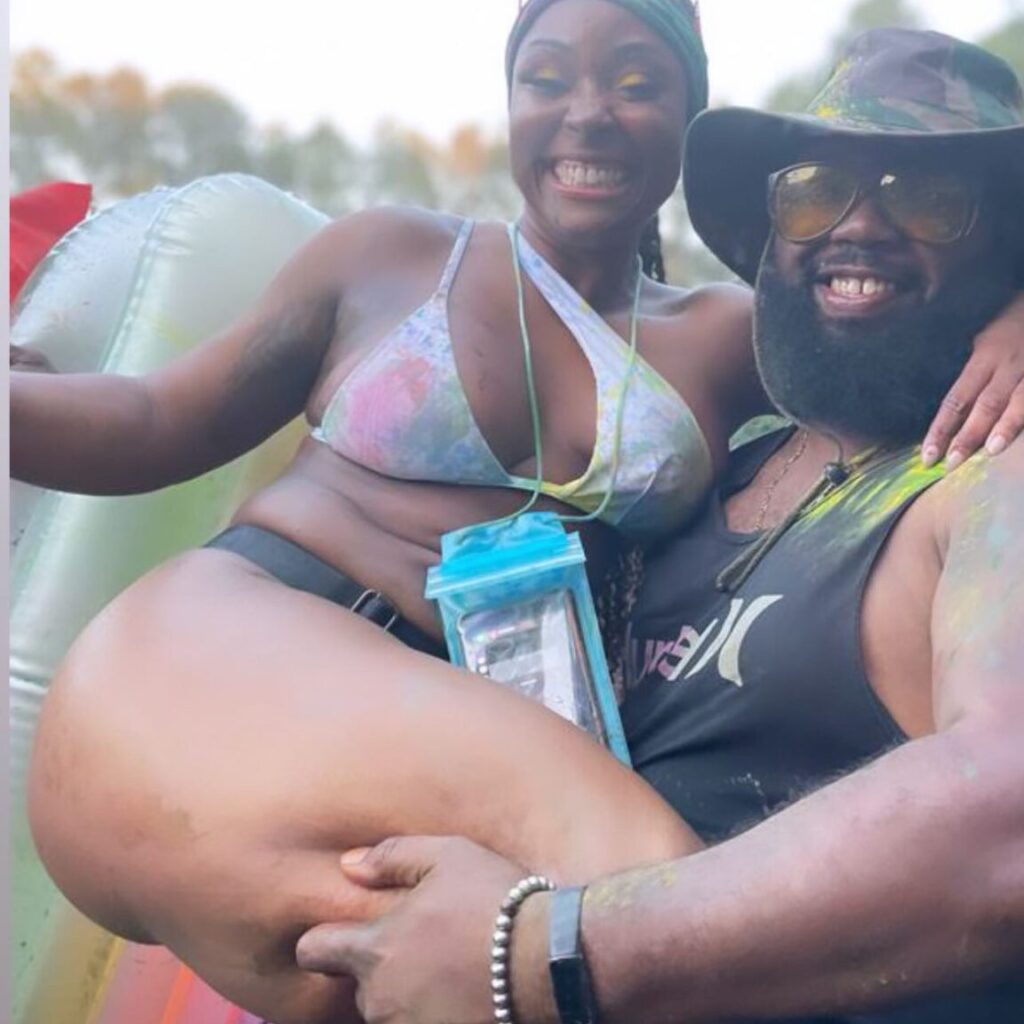 I've been told that colorgasm is a must-go for years!  I had fun going through a maze of colored panels to get inside the venue.  The moment I made it through, the venue set the tone by covering me in paint before I could put my phone away.  Dressed in a white bikini and my typical j'ouvert combat boots, I met up with my girls who pre-paid and had a great time.  Unfortunately, all that was left was water and beer.  I love a sweet wine, but experienced a lot more daggering than I cared for.  Either way, I had fun and saw many familiar faces.  Many people complained about the amount of Dancehall, but I personally didn't mind it.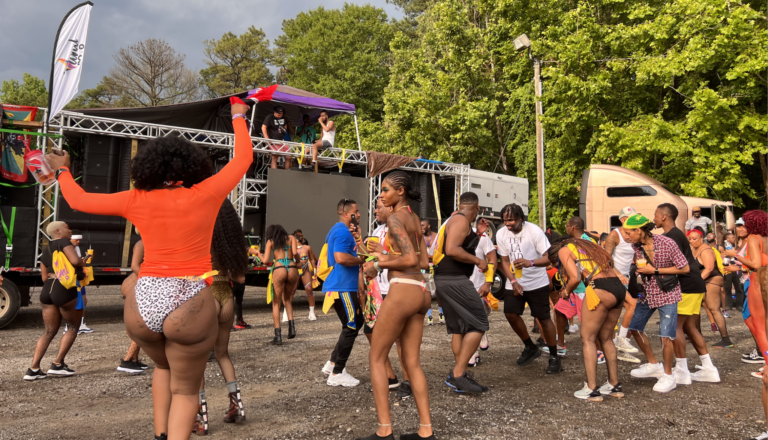 Vaval road was my way of getting a taste of what playing mas with Xuvo was going to be like. Dressed up in Monday wear, I took rounds following the vibes of the truck while enjoying the great drinks and food served. I was looking for a taste of "bam bam wall", but I guess that will have to wait until I get to SLU.  I promised my family that I would make time for them during this trip, so I couldn't stay as long as I wanted.  But it was a lot fun, and I can't wait to follow other Vaval weekend events in the future.
Atlanta Carnival with Entice Mas
I feel that Entice mas had one of the best presentations for the Atlanta-Dekalb Carnival. While watching the band launch at the venue, the website went live for registration. I loved that! But the website crashed and had to be relaunched later. But registration was easy. After that, we received invoices to complete payment and occasional email updates as reminders, and the bandleaders promptly answered my inquiries.
Things got a little dicey with the costume collection.  When I arrived, many stood outside, and the process was unclear. I waited almost an hour when I got a text message that my costume was elsewhere.  I drove to the other location for about thirty minutes. The body wear was precisely as described, and everything fit perfectly.  I intentionally wore some tights and an unpadded sports bra, so I could slide everything on to ensure it was a perfect fit without getting undressed.  Unfortunately, there were severe production issues for the backpacks, but I got it later the following day. I loved the custom cup made for my section. I don't typically keep road cups, but I will save that one.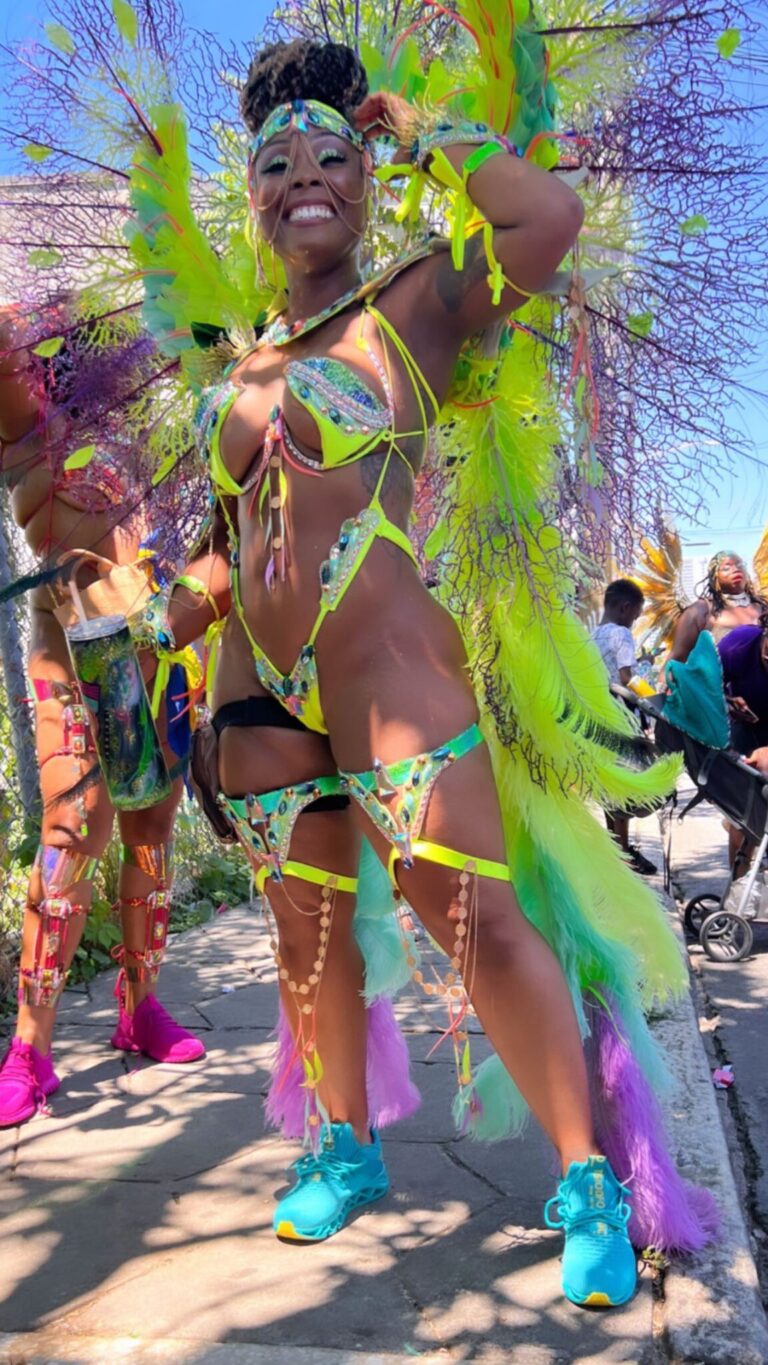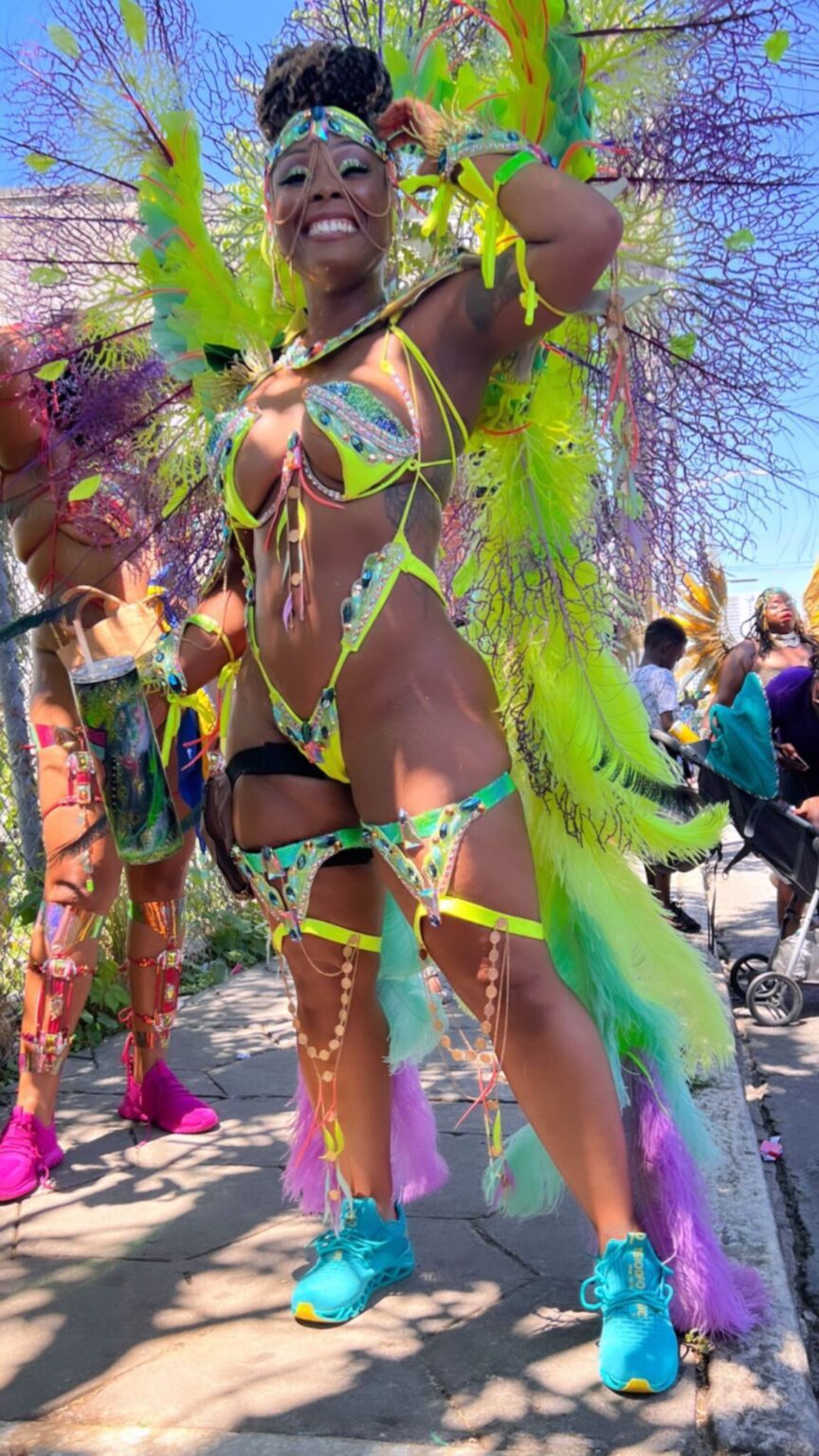 I cannot imagine how much sleep the band leaders of Entice DID NOT GET to make a last-minute move downtown. I give them all the flowers for coordinating this last minute.  
I arrived early enough to secure a good parking spot.  The church nearby provided their parking lot for a $10 fee.
The parade started with some confusion. Entice masqueraders initially could not have foot or drinks. The beef patties and the rum punch were especially good. Public alcohol consumption laws were modified in 2020/2021, which may be why we enjoyed rum punch on the road. I don't remember having it in the previous years.
Not as congested as I thought it would be.
I happily enjoyed the bridge and ATL skyline. Due to the migration of 6 bands two weeks before, along with the unexpected influx, things were definitely a bit tighter than usual, but nothing overwhelming. We cut through a neighborhood as we neared the village, and I enjoyed giving the dogs lots of scratches and love while the residents took pictures.
The end of the experience was abrupt, and we were just told to go into the village. Directions weren't entirely clear, and people started to get frustrated. My social battery was drained and my tolerance limit was reached, so I didn't stick around.
We Kinda Ting Costume Distribution
WKT distributed their costumes at the DoubleTree Hilton.  It was BY FAR THE BEST costume distribution experience I have had in my US carnival experiences. I saw clear signs directing traffic, and ample staff to answer questions. I enjoyed light refreshments while I waited my turn.  I was checked in, and left within thirty minutes.  The goody bag was cute and stuffed with amazing snacks. I root for the success of all bands, but sprinkle extra love and vibes for WKT because I started with them. I was thrilled to see them execute such a streamlined, professional experience
The fetes made a lot of things sweet.
The fetes saved my Atlanta/Atlanta Dekalb Carnival experience. I wondered if I would feel differently if I didn't attend any.  I am not the biggest fete goer, but now I appreciate how they set the tone and elevate the vibe, despite what could be going wrong.  Don't laugh at me, but someone had to explain to me the process of ordering a table.  Additionally, I have learned that I don't want to drive much during these Carnival weekend events. I will start using Uber more. As a designated driver, I can't free up as much as I want.
There were disappointments, but I still love you.
Carnival is a grounding experience for me, but I went home not feeling as spiritually rejuvenated after. As a masquerader and someone encouraging many to come to Atlanta/Atlanta Dekalb Carnival, I felt betrayed when I read an article stating there was an advanced notice that event permits were denied. The pointing of fingers saddened me. Visuals of a downed light post and complaints neighborhoods were never given a heads up came through. Reports of masqueraders urinating on personal property. The local news coverage of the turnout made my heart heavy, and I fear how Carnival will look in the peach state come 2023.
Level with me so I can manage my time and money.
2022 is Entice Mas' first year. I reasonably expected some hiccups.  As always, timely production, clear guidance, and transparency are important to me. I am understanding, and I want people to level with me when things aren't going right so I can manage my expectations, money, and time correctly.
Hoping this sparks positive change.
I believe that for Atlanta and Atlanta DeKalb Carnival to thrive, leadership must be changed.  But it's not about "firing" people.  I would like to see the collaboration we have cried for since the split in 2015.  Two Carnival events on the same day do not speak to Carnival's message: Unity.  With the significant events that occurred two weeks prior, during and the aftermath that followed, I believe the city will push hard against future events.  Things obviously cannot continue as they have. Caribbean Carnival in the United States will always clash with American values. From what I observed, multiple points of failure serve as ammo to restrict or prohibit it further.
I will continue to show support .
In my last blog, I said I would sit out 2023. Three weeks have passed, and I feel differently. I love mas too much, and I will always have a soft spot for Atlanta. The shortcomings of a select few should not leave anyone prepared to turn their back on something that reflects the culture and the West Indian community in Atlanta.