I tried to check out SC carnival last year, but I was a bit too tired from the move cross-country.  This year, I committed to checking out one of the smaller Caribbean carnival events in the United States. From the time Lisa took me under her wing all the way up until the last fete, I developed a deep love and appreciation for what event coordinators endure to put their culture on display.  Coordinating a Caribbean carnival event in the United States is challenging due to serious cultural barriers and negative perceptions.  Now imagine fighting to put your culture on display in the SOUTH.  Lisa and the board members get all the flowers for what they do.  Read on to learn about my experience, along with parting thoughts.
South Carolina Carnival Parties
Still dealing with lingering fatigue and cough from COVID, I missed J'ouvert.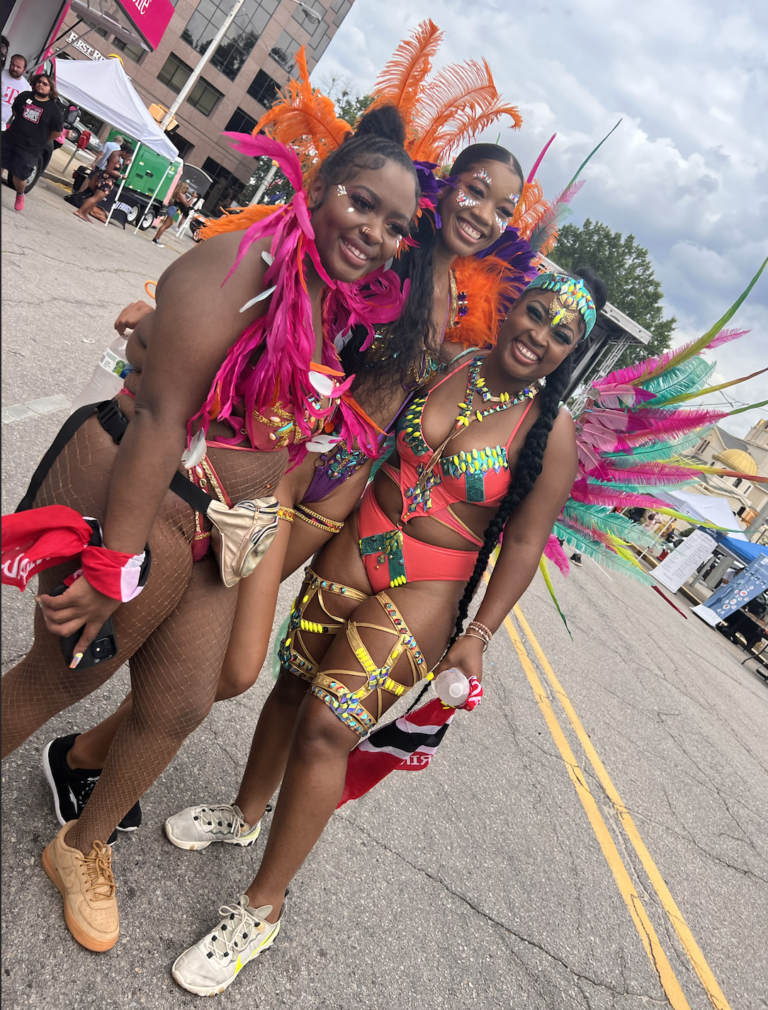 The parade ended, and all masqueraders were directed to the main stage.  For 1-2 blocks, vendors lined up on both sides of the stage. But this was definitely not the event that you had to stand in long lines for a plate.  SC carnival staff also had a plentiful bar to serve drinks. We had super heavy rain during the parade, and I decided to go home quickly to shower and change.  When I returned, it looked as if the rain never happened and things were lively. plentiful food and other vendors to enjoy. Kiddie moko-jumbies stole the show for most of the afternoon. I connected with new and familiar faces over good food, drinks and vibes coming from the stage.  My favorite part of the block party was watching Hypasounds perform near the end. I was looking a bit too hard, and next thing you know, he was staring right back at me with his arms crossed.  I'll live it down eventually. But Hypasounds, if you're reading this… call me LOL.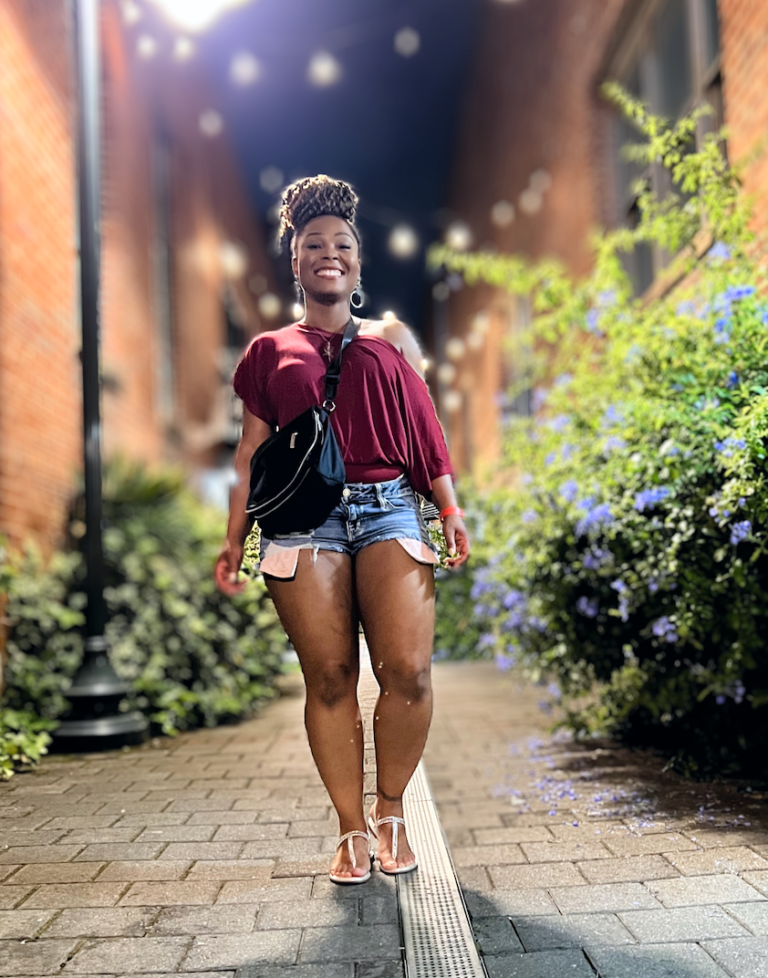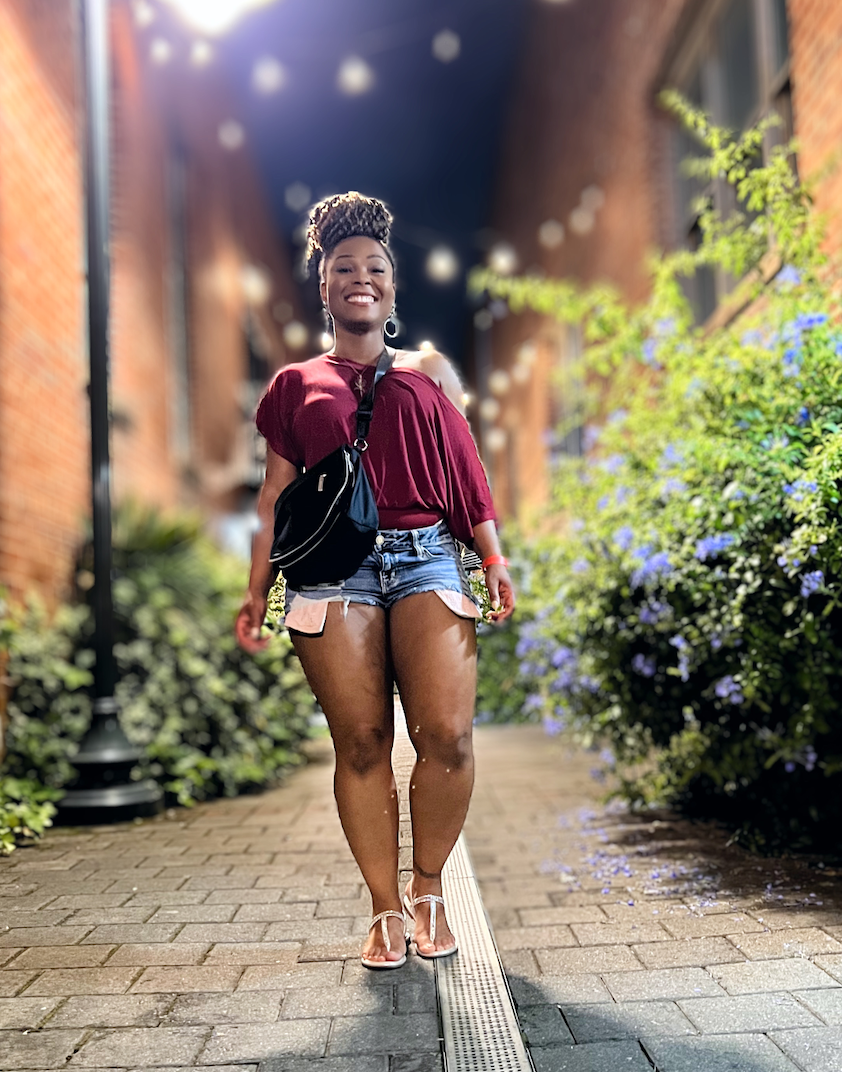 I had no idea that teamsoca came down to South Carolina Carnival almost every year.  In partnership with SC carnival, they curated a lively event at the Main Course, one of the most beautiful restaurants in downtown Columbia. Soca played non-stop, and I for the first time saw DJ International Stephen on stage. The restaurant continued to serve into the late hours of the evening from a limited menu, which was a plus.  I loved the fried oysters.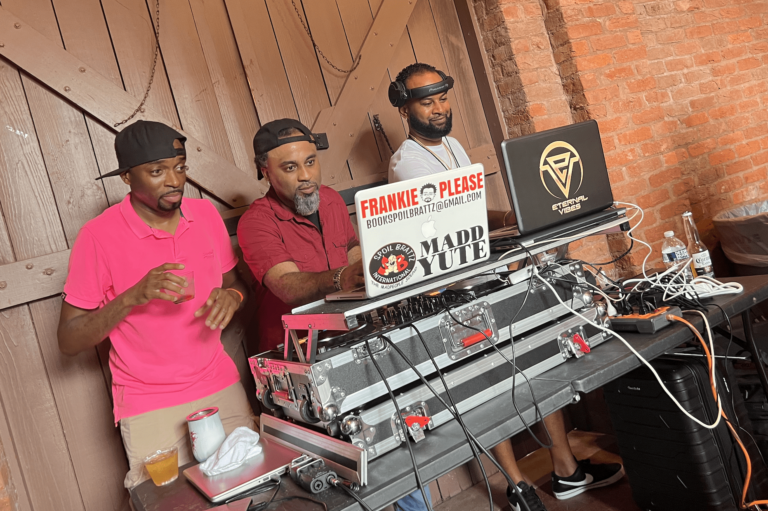 Of all the fetes, I looked forward to Punch'D.  Everyone talks about Lisa's rum punch, and I was looking forward to trying it.  I headed out to the Robert Mills House and Gardens.  It was an indoor/outdoor venue.  Due to the sweltering temperatures and humidity, the inside was a bit more crowded than I cared for.  But I enjoyed the displays of cultural pride, and I LOVED Lisa's rum punch.  I ran into new and familiar faces, and hid when Hypasounds showed up.  Yes, I was still embarrassed. Near the end of the fete, things took a turn to some old hip hop and R&B.  Being an 80's baby, you had to know I ate that right up.
Road Experience with Karikolorz Mas
Costume Registration and Collection
Registration was very simple. Provided this would be #2 of 7 jumps this year, I appreciated the price point for the experience. As things progressed, Tawana answered all questions about my order.
Costume collection was delayed, but I appreciated transparency and expectation management. Tawanna created a group chat for all of us to communicate, and nobody was left in the dark about when they would receive their costumes.
When he arrived, the designer took care of each masquerader himself. I am glad I looked at the entire costume before it was placed in the bag. Unfortunately, important pieces were missing, and without them, I wouldn't have been able to wear the costume. Luckily, the designer took care of everything on the spot before I left. When I got home, I tried on everything and made some minor adjustments.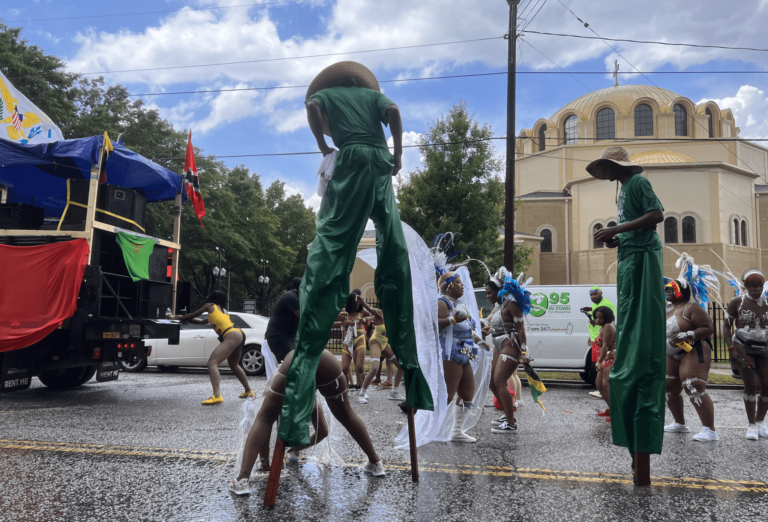 Karikolorz Mas provided details of the parade route and clear instructions on the meet up event. I would guess about fifty of us were gathered.  Pandemonium Mas from North Carolina joined us with their own truck. Island Buzz came out in their Monday wear, and a few revelers brought their own costumes. There had to have been about fifty of us.  But the rain came, and changed the outcome.  About 25 of us took to the road.  The parade started late.  As a result, the half-mile route moved quickly.  The rain was so heavy that keeping my eyes open was a chore.  But it's not the first time I've been baptized in Carnival, and it won't be the last. I did a lot of observation– the parade route i had plenty of shade and was on one of the widest streets of Columbia.  My imagination was flooded with a future of a full road, with feathers dancing happily in the wind. The parade ended where it started, but we partied in place before the police told us we had to wrap things up and take it inside the village.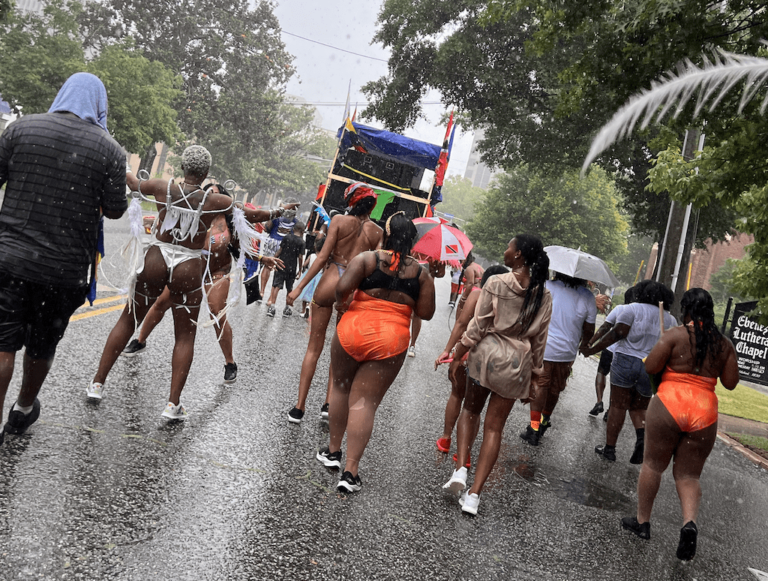 South Carolina carnival celebrated its 9th year, and I have no doubt its 10th will be a success.  Although small, Lisa has the intellect and grit to navigate religious and cultural barriers in one of the states that was a stage for the Civil War.  As she delicately navigates these waters, I am proud to know this phenomenal woman who puts on an event for pure love for her culture.  
The block party she puts on every year is free to the public, and these efforts come out of her pocket year after year. South Carolina carnival didn't receive their usual grants this year, but she made it happen anyway.
Earlier this year, I met Lisa with a potential sponsor, who later declined and ghosted her for fear of how sponsoring such an event would collide with the values of the (other) communities he services. The treatment she gets from potential sponsors is nothing new to her and other event coordinators in the United States.
Lisa could ask me to wear a potato sack to support her events, and all I would ask is that it fit me well.
Love on the small US Carnival events.
Many people expect Carnival in the United States to hit like the island countries and abroad. As a result, many of us have Carnival events at our front door, but will jump on a plane to catch a vibe elsewhere.
United States Carnivals will likely never come to the same level as overseas, but it is important to highlight that these US events still reflect West-Indian communities.  While I can't attest to the challenges overseas carnival events face, I can comfortably state that there are many roadblocks overseas carnivals do not have.  Nevertheless, small US carnival events still deserve our love and support.  
Because of Lisa's tenacity and pure grit, I can't wait to see what she does in 2023.
You'll catch me next at Charlotte Caribbean Carnival.  Stay tuned!