Trinidad and Tobago used to have Carnival as one nation every year. However, it was announced that Tobago would have its own celebration in October. I immediately started to weigh in on whether I would be attending. Besides! Miami Carnival was a few short weeks prior. But I had been to Miami twice and itching to have more Caribbean carnival experiences in the island countries. Eager to try something new, going to Tobago Carnival was an easy decision.
As I prepare for retirement from the military, I must save as much time off as possible before I transition. My carnival experience was, for the most part, what I like to call "a turn and burn"— Get in. Play Mas. Get out. Consequently, I didn't attend any of the fetes this year and focused primarily on the J'ouvert and Pretty Mas experience. But even still, there is plenty for me to talk about! Here's my review.
Early planning was so important!  I didn't want to catch a 3.5 hour ferry ride and so I stalked Caribbean Airlines for several weeks until I saw flights were available. I flew into  Port of Spain (POS)  and stayed the night before my 20-minute flight on Caribbean Airlines.  A round-trip flight from Port of Spain to Tobago (TAB) was only $48USD.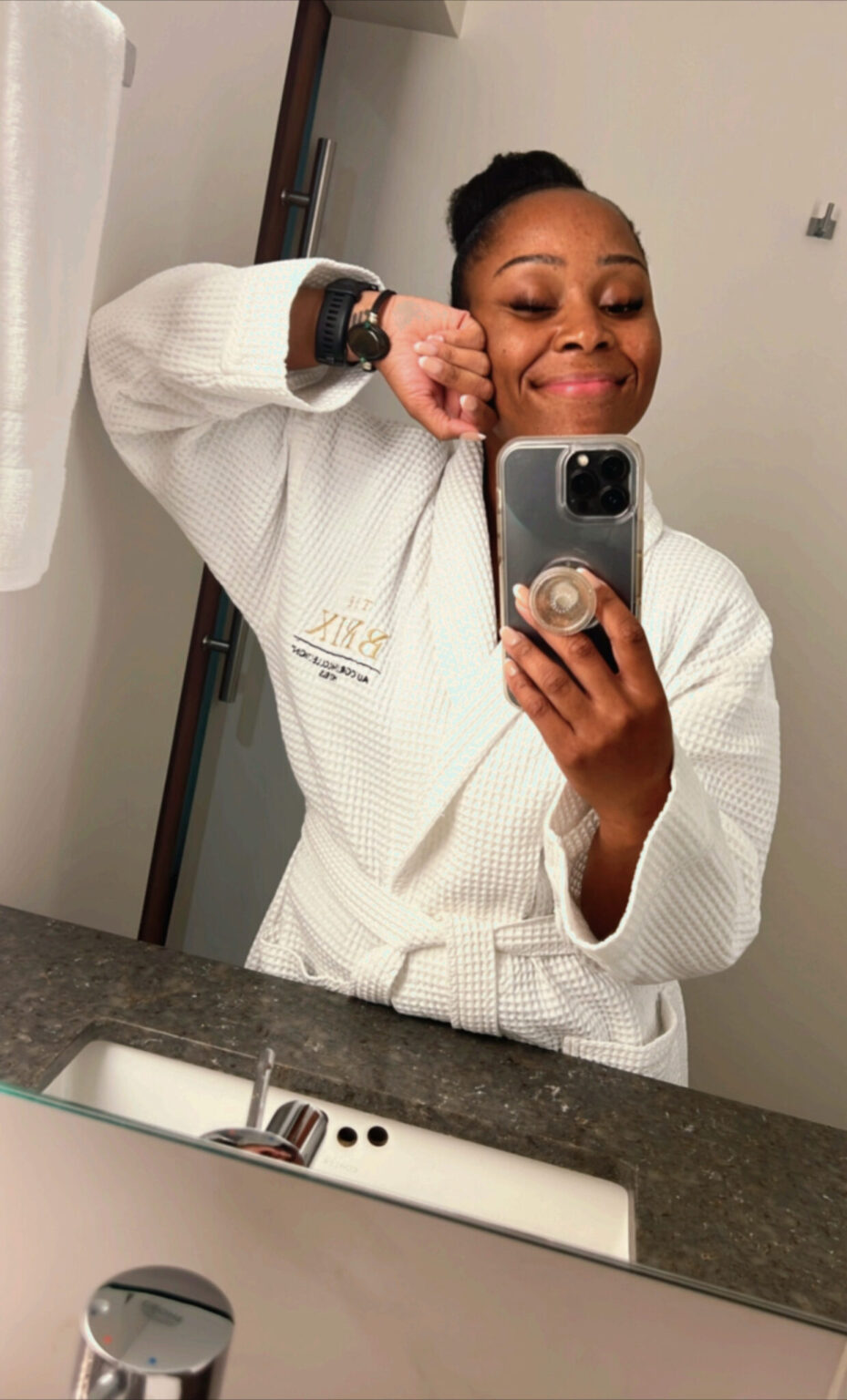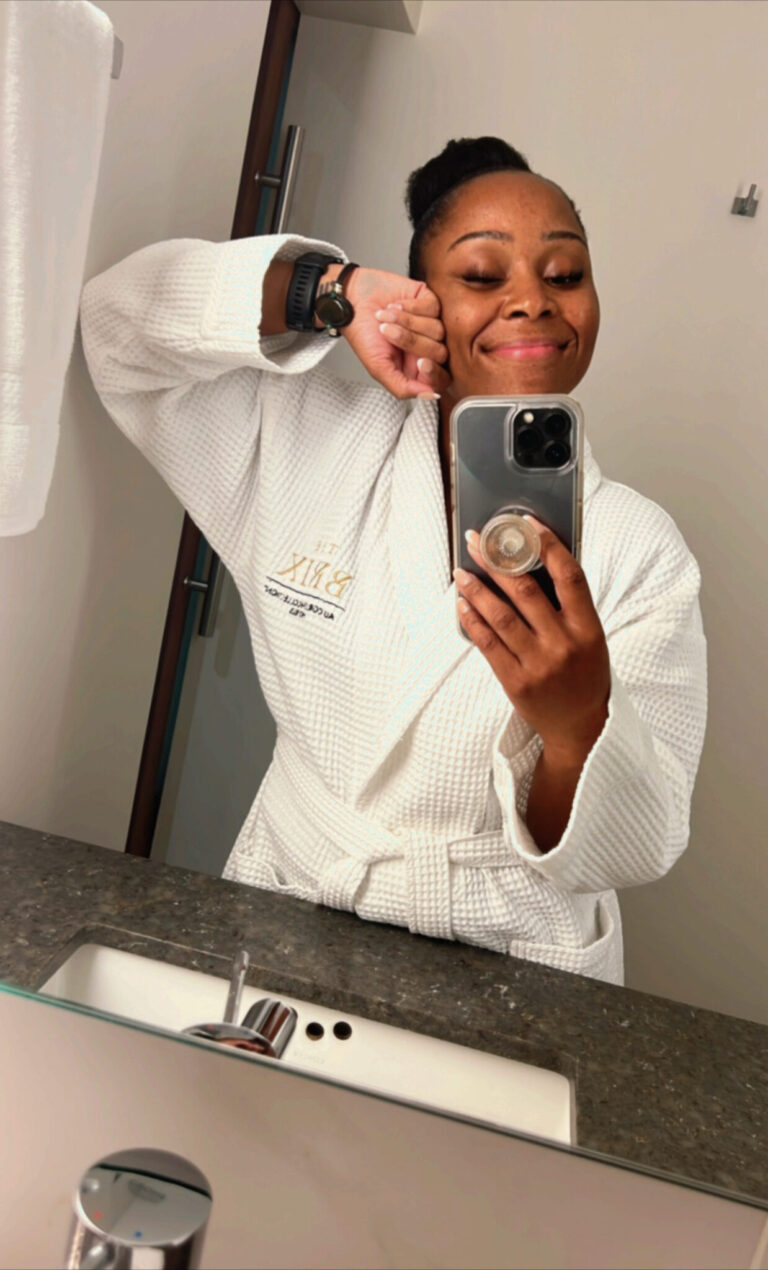 Trinidad
The Brix hotel was a 25-minute drive from POS airport. The hotel boasts stunning mountain views and very spacious, cozy rooms. I was shocked by the size of the hotel rooms, and I will feverishly seek to stay there for Trinidad Carnival 2024. Ample space for large backpacks and getting road ready! They also provided plush amenities, and I hope to be able to check out the restaurant someday. To get more information on the Brix, click here.
Tobago
Crown Point was a 5-minute ride from the airport and was the perfect location for getting to the J'ouvert starting point. In addition, the costume collection at Fog Angels' chill-out bar was within walking distance. I stayed in brand new condos on top of its local shopping center, D' Colosseum.
Registration with Fog Angels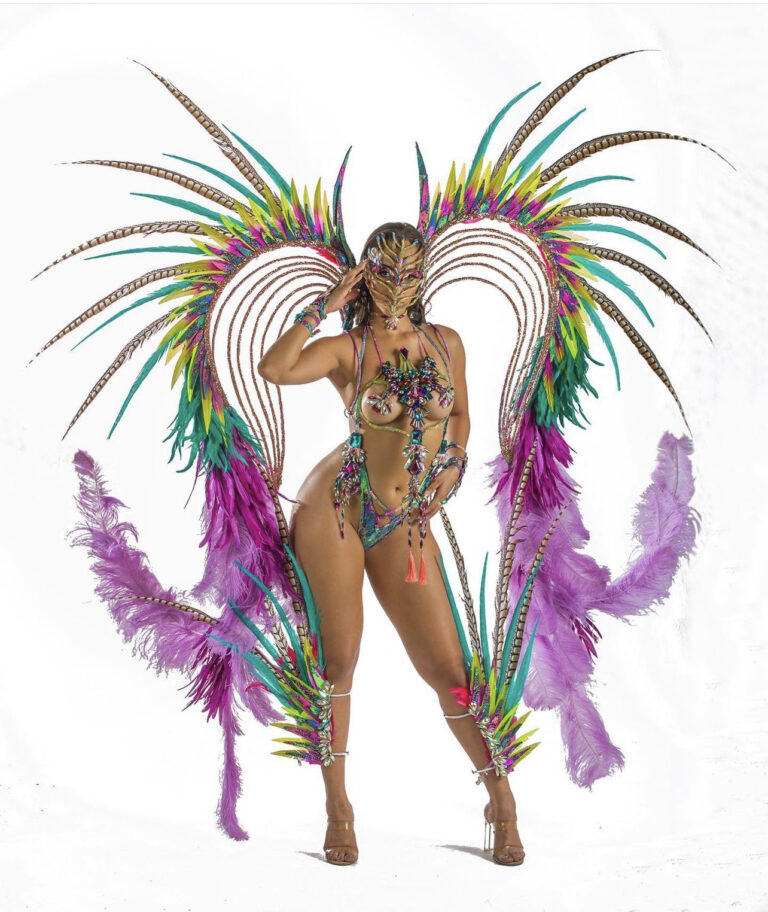 Registration with Fog Angels Mas + J'ouvert was relatively simple. Using the PlayMas portal, I could choose my options without any complications. I was initially torn between Tempo and Elite (both designed by Anya Elias) but fell back on my costume selection principles and went with Elite. I appreciated the lower price point on my costume, especially after returning from Miami Carnival with Trinidad Carnival 2023 on the horizon.
In the days prior, Tobago saw heavy rains, which heavily impacted transit (ferries). As a result, the costume collection for my section had some significant delays. Finally, after a 5-hour wait at the Chill Out Bar, Anya Elias arrived to distribute costumes. Although many patrons were angry and attempting to rush, Anya and her team were sure to speak to each masquerader receiving their costume and understood how to put them on. The bodywear was beautifully boxed, like that of my Trinidad Carnival experience. The bodywear looked as advertised, and I was impressed with the high-quality fabric. The goody bag had a cup with the lunch chit inside. The bag also came with snacks and some pepper sauce to take home.
J'ouvert started with confusion as WelcomeTobago made posts about shuttles as a starting point. Fog Angels had yet to post any information. I walked about a half mile to the designated shuttle point to see nobody standing around. 
I caught a group in Fog Angels t-shirts walking back to the Chill-out bar where everyone else was waiting. By 4:30 am I had already walked a mile. Fortunately, the Chill out bar was serving drinks and snacks. Shortly after I arrived, the truck began to move, and the Moko Jumbies started to hype us all up. The trucks were organized, and drinks were served efficiently. But eventually, the truck stopped moving, and we ended up jamming in place for quite a while (more than an hour or so).
Provided that I spent many hours on my feet the day prior and slept only a couple of hours, I was ready to CHIP! However, watching Gorilla masqueraders have fun with onlookers and participants, I got a good laugh. I ultimately resigned and walked back to my condo for a nap; the J'ouvert route was right next to it. I woke about an hour and a half later when Fog Angels were finally passing my condo… but I went back to sleep. The route led all the way out to Pigeon point, where they finished, and my friend said it was an incredible time.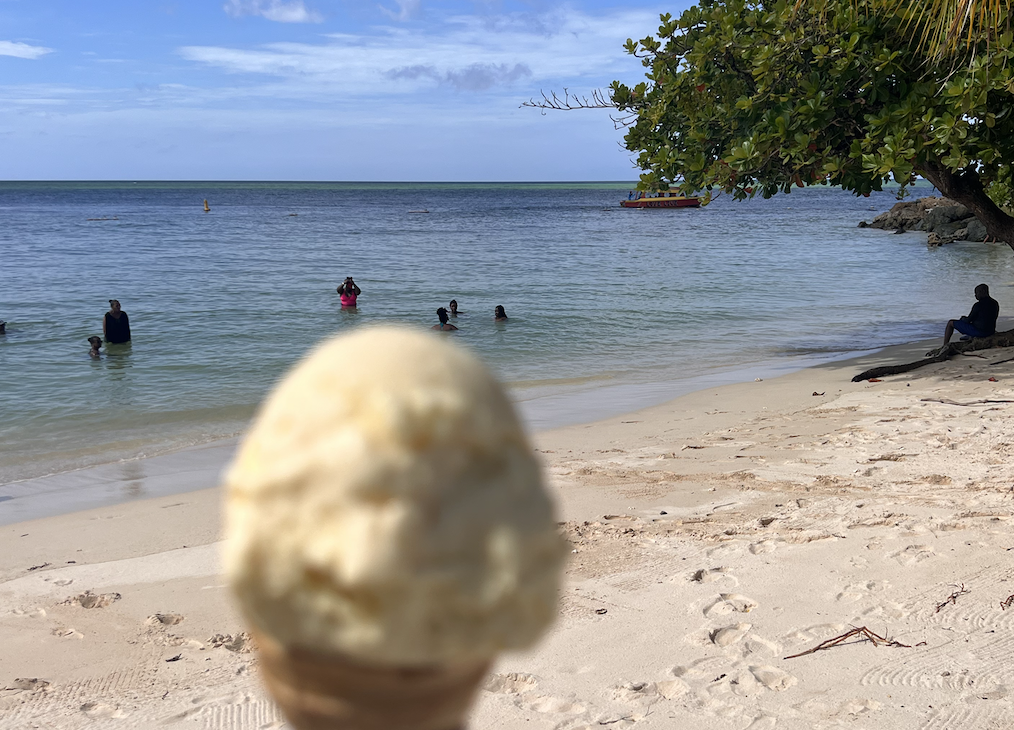 I woke up from my nap and decided to skip other festivities and check out Pigeon Point.
Besides, I skipped the cool down in Tobago after Trinidad Carnival in 2020 to avoid crowding. So, I put on my swimsuit, called Don, and hit the beach.
Tobago is a beautiful island, and its landscape heavily contrasts with the industrial aesthetic of Trinidad. With a relaxed atmosphere and beautiful beaches, Tobago is a hidden gem in the Caribbean, and its beaches are TOTALLY underrated. It's a place I am already planning to return to outside the Carnival.
Pigeon point is laced with many shops and lots of places to eat. I had some butter pecan ice cream while walking along the beach and took time to admire the Koi Pond and waterfall. Shortly after, I rented a beach lounger for 25 TTD a day and allowed the ocean breeze and relaxed atmosphere to lull me into a peaceful nap. When I woke up, I rode with a guide on jet skis who showed me beautiful points of the beach. My favorite experience was the Nylon Pool, where boats dock in the middle of the ocean, allow people to get out, and literally STAND on a sandy shelf.
Afterward, I took a short walk, had some bake and shark, and chatted it up with a local who had just visited the state where I live! Small world!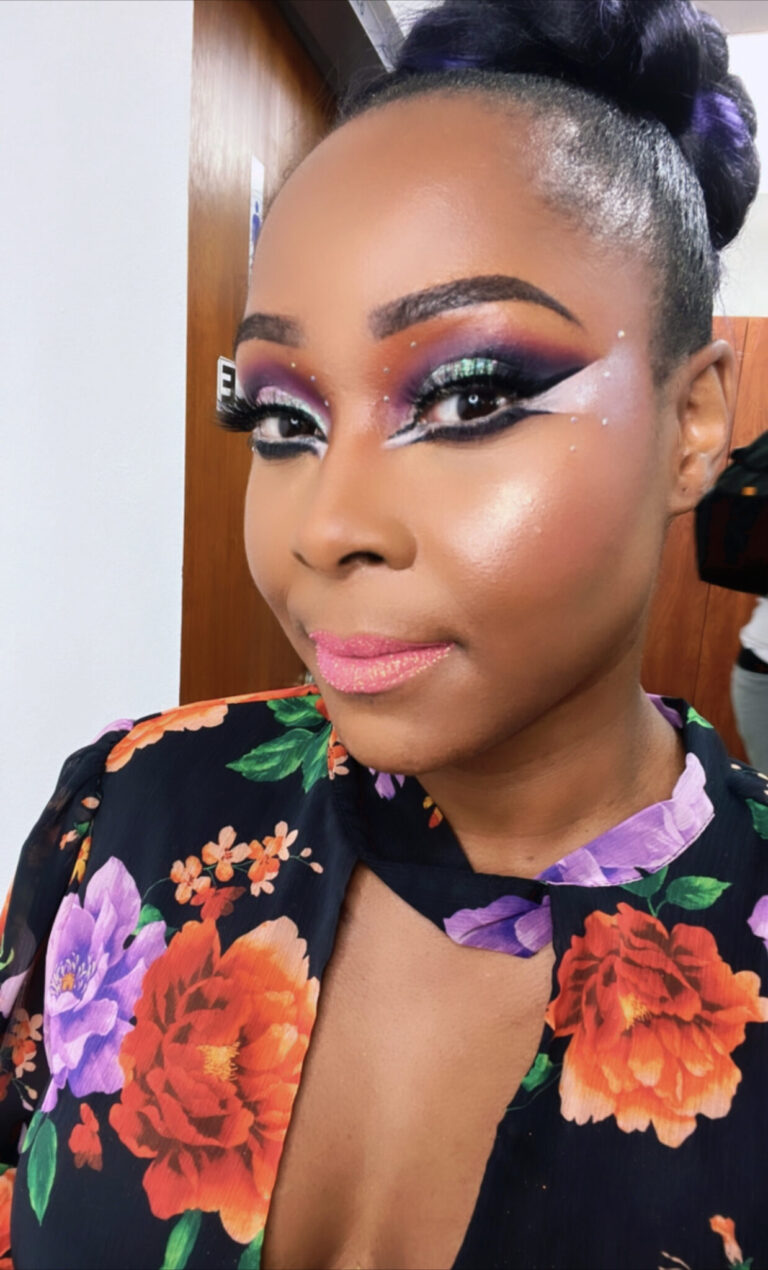 Faces of Bella Rouge offered makeup service for Tobago Carnival. I got my makeup done with her in Saint Lucia and absolutely had no make sure I went to see her again. The location was easy to find and close to the start point. Mandy is lovely and a master of her craft. I trusted her vision, but she insisted I give her a photo for inspiration.
She easily replicated it and even put her own signature on it. We got dressed in a VIP lounge after that and were on our way.
If you are interested in booking with Mandy for Trinidad Carnival with carnival glam hub, click here.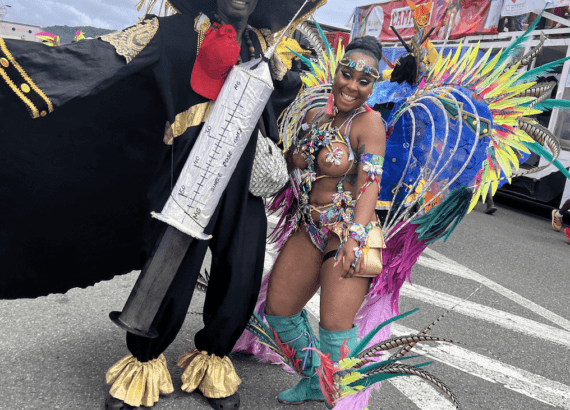 There seemed to be issues with communication about road blockages, but the driver was able to finesse, letting us through. The parade started 30-45 minutes later than expected, but once we were on our way, it was a TIME! The energy was lively, and I enjoyed the stage sitting on water views. I loved seeing and interacting with traditional Mas on the road. Fog Angels and Anya Elias delivered everything I expected and could ask for. I chipped down the road in a plastic wine flute filled with prosecco, enjoyed the roving bartenders with shots for all, and ate all the snacks I could want. The rest stop was short but long enough to eat lunch, and we were back on the road. Time passed so quickly, and 5 pm came. Unfortunately, I had to catch a flight back to POS in a few short hours, and I was so sad that I couldn't stay longer.
From TAB airport and back at the Brix in Port of Spain, I watched videos of fireworks and more celebrations, wishing I could have stayed longer.
AWM's Improvement Wishlist
– Bands and associations should clearly define the start point and communicate changes through all outlets available.
– Establish clear communication with local government regarding roadblocks and detours so it can be communicated to attendees early on.
– Communication about costume distribution delays will ensure masqueraders optimize rest time and other resources.
Tips for attending Tobago Carnival 2023
Get ahead by checking out my 2022 guide here.
-Don't stick! Book your flights as early as possible. If not, you may be resigned to booking a 3-hour ferry ride.
– If you have to catch the ferry, don't be afraid to stop by TAB airport to get put on the standby list back to POS. I saw a handful of people that were able to fly instead.
– Taxis were very busy; once you meet a driver, get his number for future rides, and treat them well! You will need them!
– Crown Point was the perfect location—a five-minute drive to TAB, a short distance to pigeon point, and walking distance to many mas camps/distribution points.
– Be on time for the parade meet-up. While it is normal to be fashionably late, doing so negatively impacted a lot of masqueraders.
Once I did the math, Tobago Carnival was an overall cheaper experience than my trips to Miami Carnival in the prior years (since I planned it very early). 
This was Tobago's first (independent) Carnival, so I did not expect the event to not come with some points of improvement. However, the revelry on the road and the experience that Fog Angels provided made Tobago Carnival something that everyone should go and experience, ESPECIALLY if they are looking for something to do in October (besides Miami Carnival). It will continue to be refined and get better year after year.
I really appreciated how much room I had to revel. Still, I wonder if the attendance was negatively impacted by the fact that some came very late (if at all) due to roadblocks/detours needing to be reasonably established. However, regardless of the size of the crowd, my Tobago carnival road experience was memorable. I can't wait to share my experience with you all next year.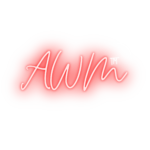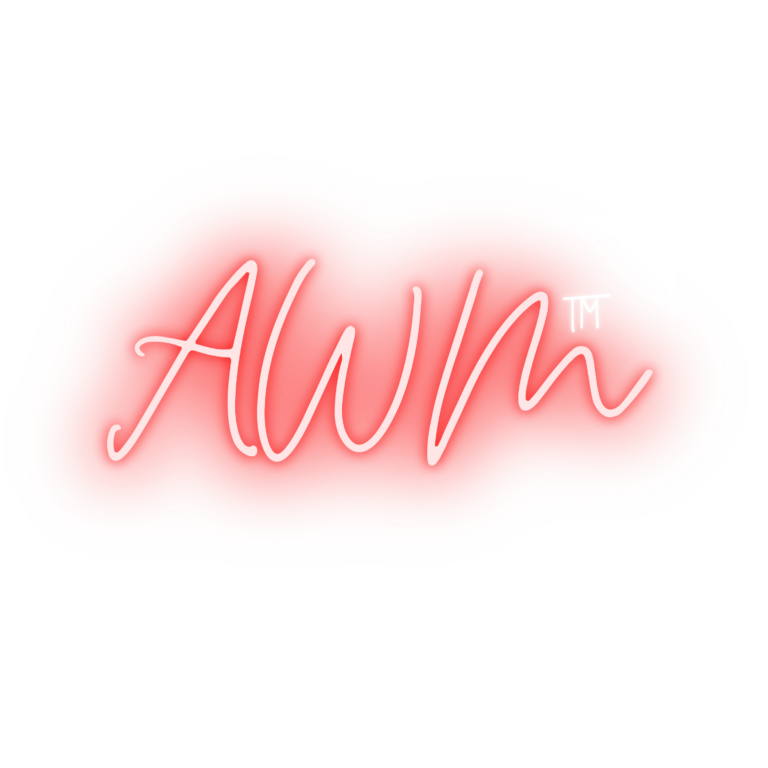 carnival reviews