When it comes to planning your carnival travel, the cost of your accommodation can easily exceed the price of anything you will need to buy. Of course, this can all be contingent upon whether you are a solo traveler or jumping with a crew. Many carnival-goers will opt for AirBnB's when going with large groups, which makes sense because you need more room. However, I prefer hotels for safety as well. This blog will discuss why you should consider joining a hotel rewards program and booking hotels as much as you can for your travels.
Read on!
To learn how to accrue airline miles without flying, click here
No Loyalty Benefits for Home Share.
Depending on where you are traveling, Airbnb properties can be cheaper than hotels in the surrounding area.
Unfortunately, no loyalty perks are associated with Airbnb, VRBO, etc. Unless you have a credit card that rewards spending, you could spend thousands of dollars a year traveling with no kickback for your continued business. As an avid carnival-goer, I encourage you to seek opportunities that pay you back when you travel.
Reasons to join a Hotel Rewards Program
Y'all, it's FREE. I cannot think of any hotel chain that does not have a complimentary sign-up. You can sign up online or at the front desk of the hotel when you check in to your hotel. As soon as you sign up, you can earn rewards immediately.
Hotel rewards programs reward you for your loyalty, allowing you to accrue points and benefits that give you access to free stays, upgrades, late check-outs, dining credits, and more. Granted, you will start to see the benefits once you accrue more loyalty points, but a little bit here and there over time goes a long way.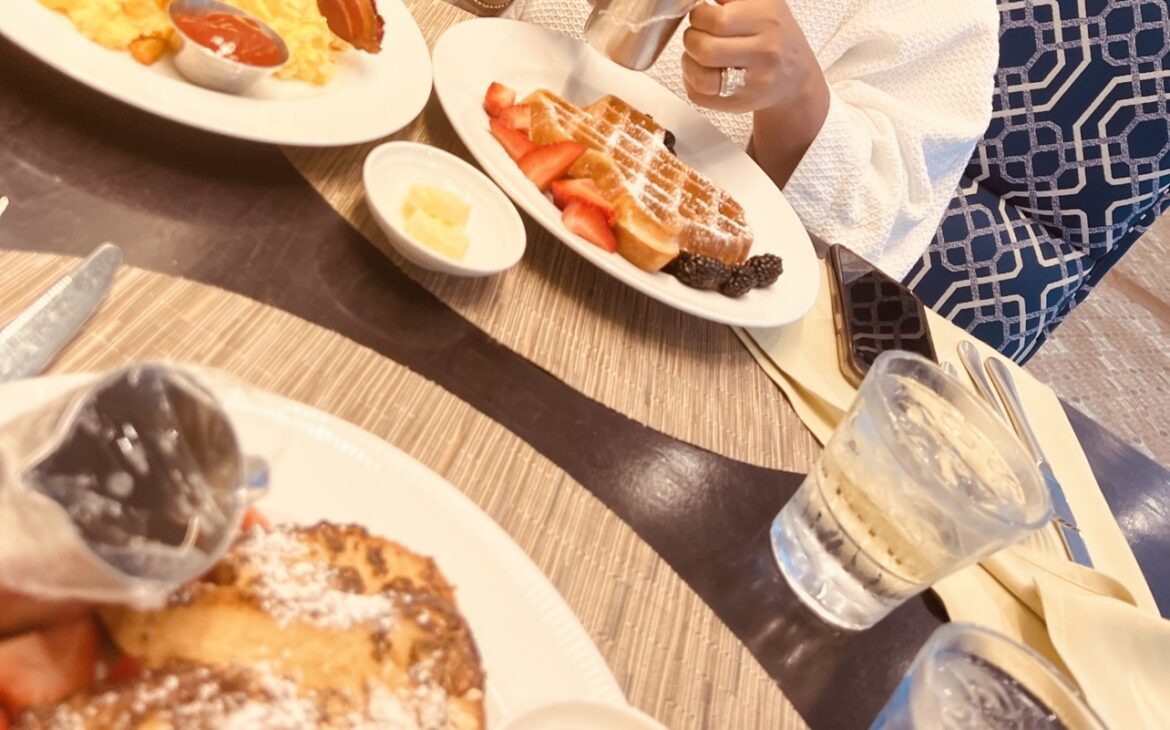 When I stayed at the Intercontinental Medical Center in Houston, Grace and I enjoyed complimentary breakfast (valued at around $80) every morning throughout our entire stay and a $20 dining credit. In addition, I was allowed to check out at 4 pm, and high-speed Wi-Fi was complimentary. When I stayed at the Kimpton in Huntington Beach, I enjoyed a mandatory upgrade to an oceanfront suite, and my amenity fees were waived.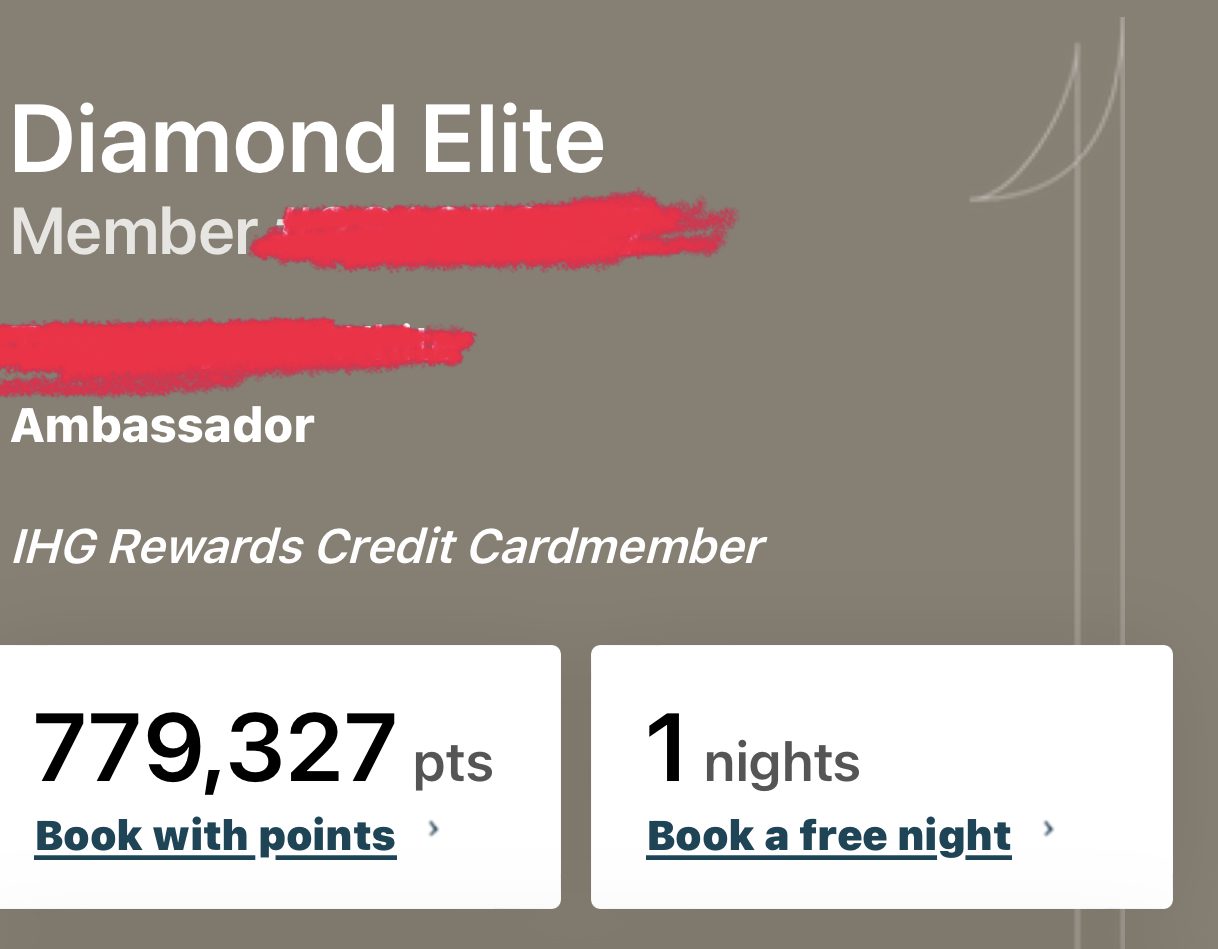 Regardless of tier, hotel chains reward loyalty members with discounted rates, even if you have never stayed with them. You might find the price for program members less than anything you may find on third-party discount travel sites. For example, I have been an IHG member since 2013. I have enjoyed complimentary room upgrades and even stayed at the Pallazo hotel in Las Vegas using 60,000 points and $30 cash per night. To date, I have accrued over 775,000 points total and intend to use my points for that dream trip to the Maldives when I retire. Currently, the redemption rate for the Intercontinetal Maldives is 90,000 points and $80 a night. Imagine staying in an overwater bungalow in the Maldives (around 1200 a night) for only $300. You can enjoy free nights with your points and free night certificates depending on your chosen hotel.
Purchase gift cards with points
You can use your hotel points and rewards to purchase gift cards for food, drug stores, grocery markets, and drug stores, which can reduce your spending on everyday goods and services.
While the value of your points is significantly reduced, it can help if you if your budget gets tight.
Car Rental/ Airfare Benefits
Several rewards programs offer airfare and car rental benefits. For example, IHG points can convert to airline miles. Of course, the value of the points will be heavily depreciated when you transfer over to an airline, but this is a benefit that Airbnb does not offer. Alternatively, many reward programs offer automatic status upgrades with rental car companies. If you are an avid traveler, this may be handy for you.
Tips for maximizing your benefits
Your hotel rewards points are currency! So here are some super helpful tips that can help you maximize your points and benefits:
– It's better to have more points stacked with one program than scattered across many. So stick to the hotel chains you tend to use.
–       Check the website regularly for bonus periods and sign up. For example, IHG periodically runs bonus periods where you can double or triple your points earnings.
–       Always make sure you book your hotel while logged in to your account to ensure that you accrue points for each stay. If you forget, ensure that the front desk receptionist adds your membership number to your stay at check-in.
–       Evaluate the cash rate of your points. Sometimes it makes more sense to pay with cash than to use your points. So bust out the calculator on your phone and divide the cash cost of a night by the number of points you need for your stay. By all means, if you are in a pinch, do what you must!
 –       Avoid using your hotel points for non-hotel rewards. Doing so will heavily depreciate the value of those points.
 –       Your points can expire with some programs, so keep up with expiration dates. For example, points can expire 12-24 months after no activity.
 –       Look into co-branded credit cards! I am an IHG member and have the IHG Premier credit card, which allows me to earn 26X on my hotel stays. We will talk about that later!
Below is a list of hotel rewards programs. It would help if you naturally looked at the hotel chains you are more likely to stay. Click the hyperlinks below:
Carnival isn't cheap! With consistency and patience, you will be well on your way to saving money and enjoying incredible perks. Your favorite hotel chains may not be available at your next carnival jump, but you can use your hotel perks and points on your other trips.
This information was super helpful to you! If you have any questions or comments, be sure to comment below or email hello@americanwinesmatter.com