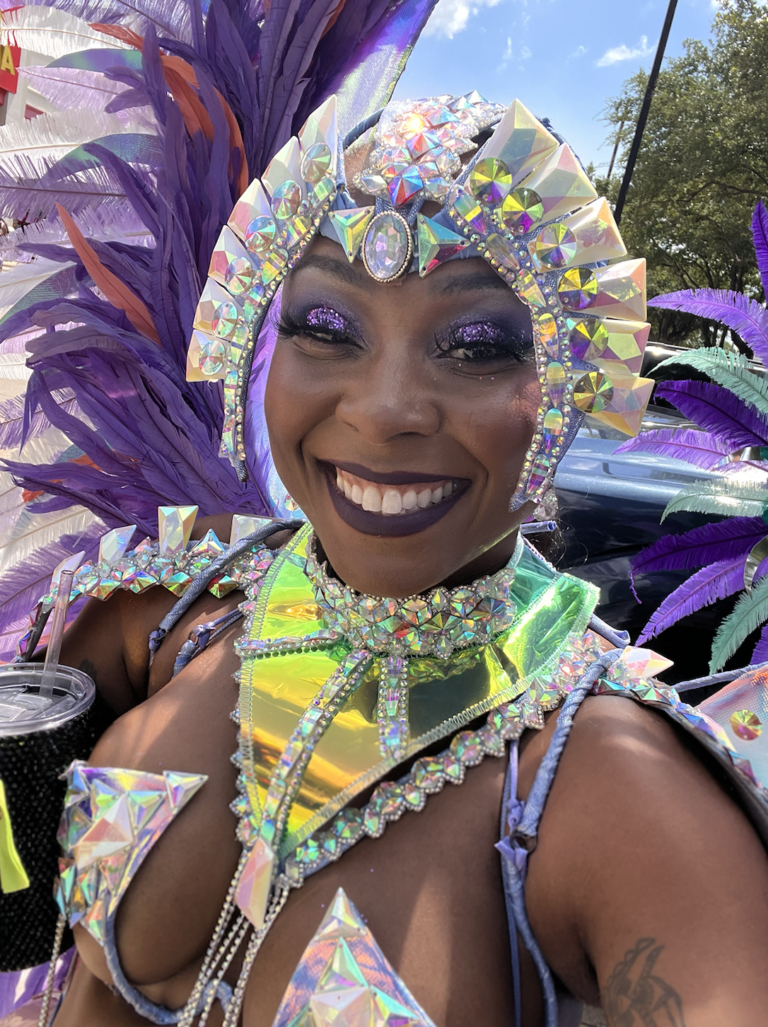 Due to the pandemic, Houston Carnival was my first jump in 2021. I had a fantastic time with IzahFeter and knew I would be happy to return the following year to catch a vibe. Since then, IzahFeter rebranded as Vogue Mas, and I was  excited to show support to Wendy and her team for the launch. 
Houston Caribbean Festival (HCF) was from June 30th – July 3rd. Here's my review!
If you want to read about my 2021 experience, click here.
I stick to what I know. I enjoyed my stay at the Intercontinental – Houston Medical Center in 2021. I knew without a doubt that I would return. 
As an Intercontinental Ambassador and Dimond Elite member, I enjoy guaranteed room upgrades and complimentary breakfast for two in the morning. I'm not talking about the complimentary breakfast from the Holiday Inn. I'm talking about a full menu selection of a la carte options. It was more than expected, and I always left breakfast with food on my plate.
I loved going to the bar…daily. I chatted it up with the same bartender from the previous years, and he poured his good vibes into one of the BEST old-fashioned I ever had.
The hotel is situated in the heart of downtown but not too noisy. The drive from the hotel is about 15 minutes to the meetup point. if I am being honest, it didn't take long to get anywhere I needed to go from that hotel. It will remain my "hub" whenever I return to Houston.
Since it was HCF's 20th anniversary, I focused on checking out events sponsored by the association.
Houston Carnival J'ouvert
The event was nicely situated in a large open field. We arrived with clear directions, ample parking spaces, and an easy entry experience. Although I had just met Grace, I found that she and I were a lot alike: We scoped the scene from afar and just took in the energy. Imagine Infectious joy, The bass shaking your bones. A bubble machine pushing effervescence into the atmosphere, disobeying suggestions to not sit on top of the scaffolding, flags from all over waving in the air. FIRE. Jab jabs.
Food and clothing bordered the concert for us to enjoy. Later on, Talpree took to the stage. At that time, I could tell the weather was turning. Seizing the opportunity, I grabbed Grace's hand and snuck us behind the stage. Next thing you know, we were dancing on stage right behind Talpree! Things were getting too lively, and parts of the stage showed signs of impending collapse.
Consequently, many of us were taken off the stage for our safety. But then rain fell heavy, and the music dissipated quickly. Everyone sprinted to the cars. We had considered waiting until things died down before heading back out, but a) MUD. If you know me, you know I am not a fan, and b) We never got any paint or powder. What's a J'ouvert without it? I was expecting to follow a music truck anyway. And so, we decided to call it a night.
Houston Carnival Pool Party
 The venue was minimally decorated, but the pool deck had cabanas and chairs for people to enjoy. Despite the sun and the large pool, most patrons sat around it, watching face. Black people go to pool parties to not get in the water, though? 
To be honest, the DJ left a lot to be desired; for the first time, I went to a fete where I internally begged for Soca music. I found myself a bit deflated by heavy rotations of Hip Hop and Rap music. I did enjoy the sun and the vibes from familiar faces, but I ultimately cut my time short.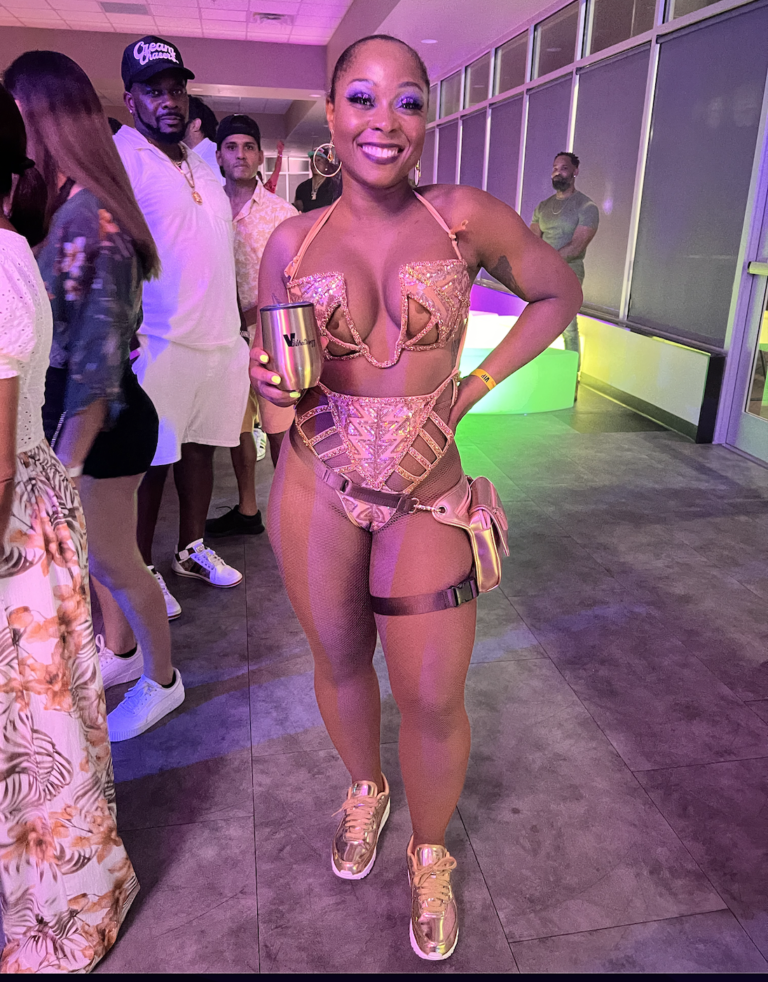 ** Not sponsored by HCF** 
Vibrationzz Mas was a road band but has since transitioned to a Sunday Night mas event. Their customer service and event left a solid impression on me, and I was happy to return. This year, they elevated the Monday wear options. I was torn between the two sections but opted for the two-piece D'or Camella. Distribution had some hiccups, but we all received emails about the distribution status well in advance. The Monday wear arrived from Trinidad Saturday night, and they delivered it to me (while I was sleeping). The Monday wear was more beautiful in person and well-made. Due to the fabric used, a natural seam down the front of the panty.
As a consequence, it made for some major camel toe. Who was going to look that close anyway? I laughed it off with the band leaders via text. 
The new venue this year was comfortable, and we enjoyed the concert behind the stage as VIP. In the back of the venue was a vendor selling doubles. As a patron of the Monday wear, the VIP had its own mini-bar, and premium drinks were included. Kudos to you, Vibrationzz Mas!
Houston Carnival with Vogue Mas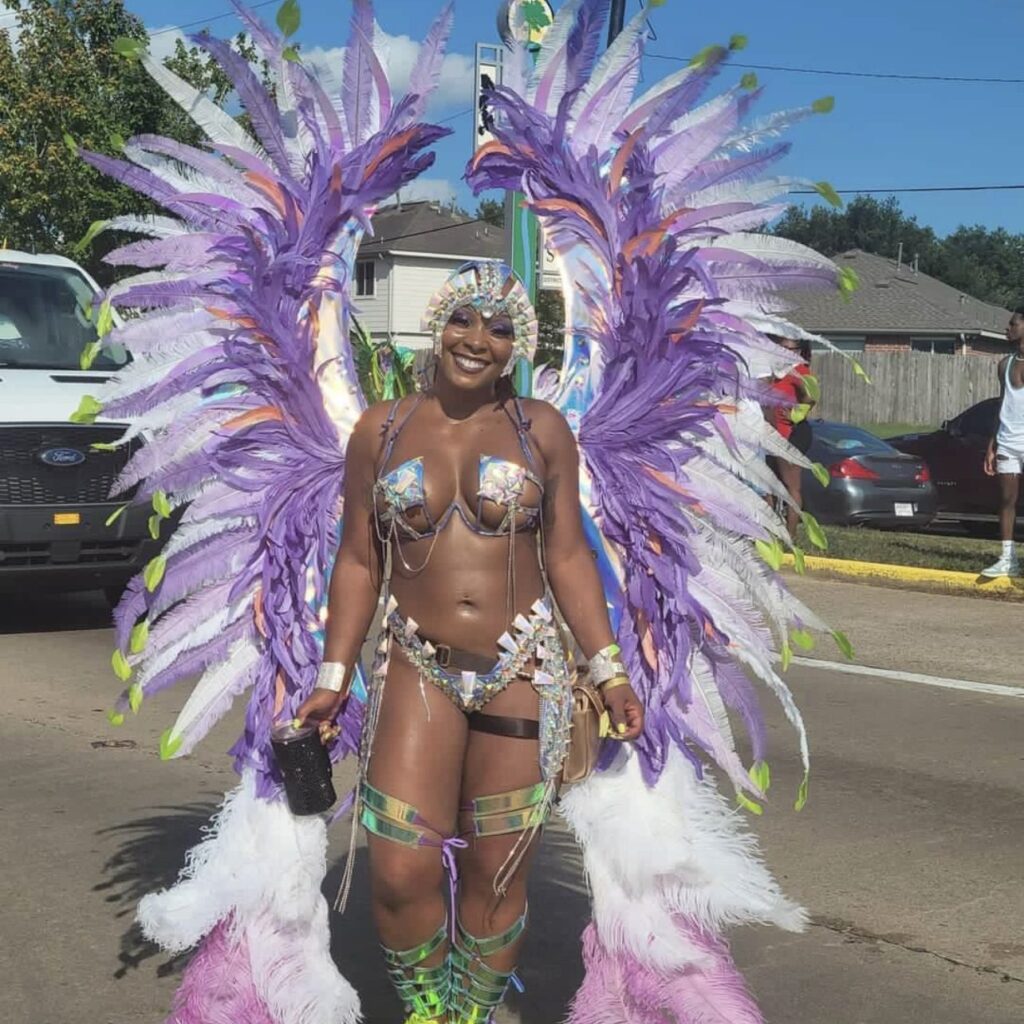 Having met Wendy in 2018 when she was a section leader with Mirage Mas, I always appreciated her love of her masqueraders and her desire to see them all happy.  She poured her all into Houston Carnival 2021, and had no doubts that she would make some magic happen this year.
Registration for Houston Carnival
Vogue Mas had a live band launch which was aired live across social media platforms.  Shortly after, the website launched.  I was really impressed with how easy the website was to use.  To be honest, the only thing that was difficult about registering with Vogue Mas was making a decision which costume I wanted to purchase.
Vogue Mas gave ample notice of the distribution schedule and location.  Members of the team took to IG live to show eager masqueraders that everything was waiting for the along with the little goodies they would get to enjoy. 
I arrived the Friday prior to pick up my costumes. I underestimated my fat loss and came to a harsh realization that I now need to start ordering small thongs instead of medium.  Either way, Avi, Jason and Angela were prepared for almost anything.  A sewing machine came out and my panty was taken in while I waited.  All in all, I received exactly what I paid for, and was really happy someone was available to take in my panty.
The atmosphere was calm, organized and inviting. I enjoyed more jello shots than I should have while I waited.  Once everything was good to go, I picked up Grace's costume and headed back to the hotel.
Houston Carnival Road Experience
The parade was scheduled to start at 3pm. The meet-up point was situated in an Auto Zone parking lot, and ample parking was available. While we waited, I took advantage of the fish tacos served and took sips of water mixed with the Liquid IV. Part of my costume stayed in the car. It was THAT HOT.
Side note: the black Hebrew Israelites were out at the start point handing out pamphlets. If you want to read about my first run-in with them in Charlotte, read here.
Houston was the hottest, most humid Carnival event I have ever attended. Hovering at 94 degrees, many were not prepared for the heat. Vogue Mas was the most prominent band, and its size dwindled quickly over time. By the time we reached the first judging point, 50% of the band was gone. By the final judging stage? Less than 25%. Plenty of water and rum punch were served from carts on the road. We did run low on the ice at some points, but it was addressed quickly.
The only sour point of my road experience was having a section leader try to force me to stay in my section. Mind you, Bliss was one of the smaller sections, and my carnival newbie was in the section ahead of me. Not only did I want to fete with her, but I also wanted to ensure she was okay. I was naturally very irritated by this experience and ultimately lost sight of Grace. The good thing is we already had a contingency plan if something like this happened.  
Unfortunately, she sent me a pin drop and told me she had developed heat exhaustion. The members of Jam Design Concepts (Avi and Jayson) took good care of her. I made sure she got in the van to cool off and took the rest of my time on the road alone. By the end of the parade, most of the band had given in to the heat. When we arrived at the carnival village, whoever was left took to the stage. I took advantage of this opportunity to avoid a long food line and ate before returning to the hotel.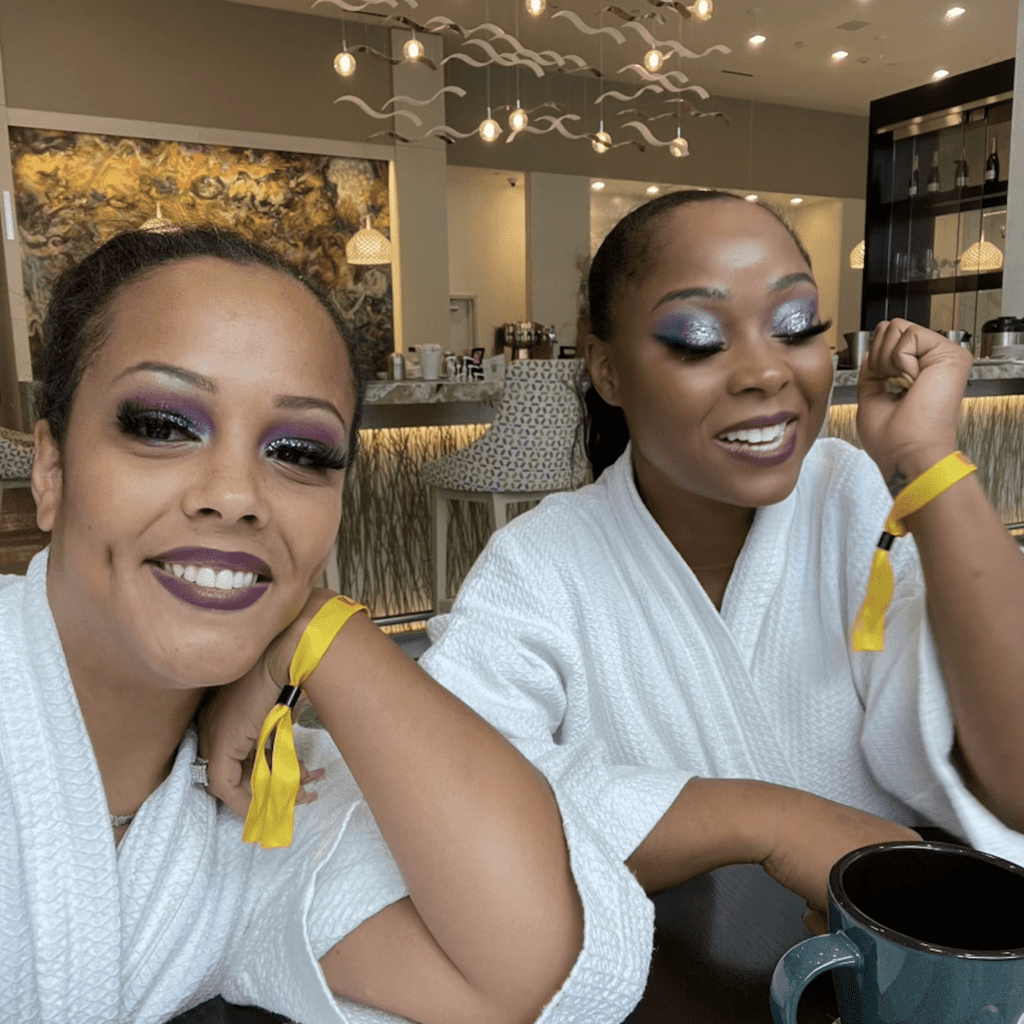 I interact with almost all of my followers. At any rate, Grace and I strummed up a conversation about Carnival, and she said she wanted to go. Not sure what led me to invite her to come with me, but I did. Besides, I do love taking carnival newbies with me and love sharing the experience.
On the flight to Houston, I asked myself if I had made a mistake. Granted, she and I had been in communication since March, but I, in all essence, did not know her. But you know what? Grace was a breath of fresh air. She was Calm and attentive. I enjoyed helping with her costume, matching her in Carnivalista pasties and fishnets, and teaching her to walk sideways in a feathered backpack. 
I took her to J'ouvert and discovered that she and I have a similar fete approach: Study the scene first and then jump in and have all the fun. Our personalities and personal experiences were insanely similar. I cannot help but feel that this experience with her was divinely led. In a matter of four days, I gained a sister.
This is what I love so much about Carnival.
The strangers that become friends and family, even if you only see them on the road or at your favorite fete. I can't wait to see her again!
Parting Thoughts on Houston Carnival
Compared to Houston Carnival 2021, there was a significant improvement in the parade route, for which I am grateful! A lot of work goes into planning and getting approval for the parade route. I totally applaud HCF's improvements for 2022.
I was left a bit deflated by the pool party. The bottom line is that I expect to hear soca music for association-sponsored events for carnival.
There seems to be a clash between how Carnival used to be and what masqueraders expect from Carnival today. Several bands in the United States call for dance routines and an organized chip. Expectations of the masqueraders should happen before registration. I expect to roam freely until it's time to cross the stage. I spoke with Wendy afterward, and she said there was a misunderstanding. I hope this won't be an issue in 2023.
I hope to see HCF in 2023 and can't wait to see how they will elevate the next experience.