I had no idea there was a Caribbean carnival in South Carolina until I moved back into the area.  Lucky for me, the South Carolina Carnival (SCC) takes place just a few blocks from me in downtown Columbia.  All you need to know about South Carolina Caribbean Carnival includes dates, where to stay, events, buying tickets, and participating in the parade with Karikolorz Mas or Pandemonium Mas.
All about South Carolina Carnival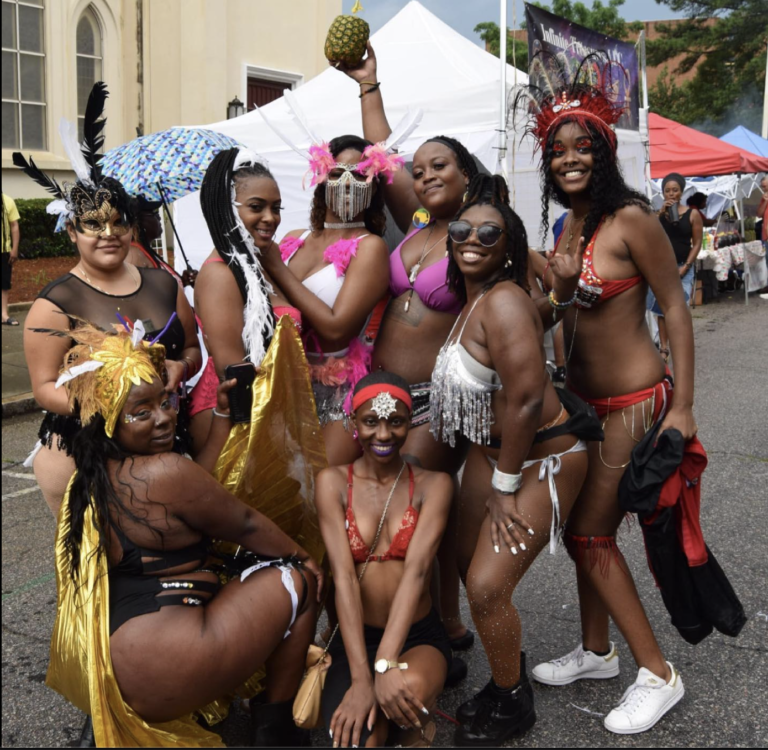 South Carolina Carnival consists of five events from June 10 – 12, 2022, in Columbia, SC (the state capitol).  Downtown Columbia can be described as a beautiful balance between hustle and southern charm. 
South Carolina Carnival's events include:
J'ouvert ( June 10th) – Venue TBA
Carnival Parade (June 11th) – Downtown Columbia, SC
Block Party (June 11th) – Main Street, Columbia, SC
Soca is Life (June 12th) – Venue TBA
Punch'D (June 12th) – Robert Mills House and Gardens
Play Mas at South Carolina Carnival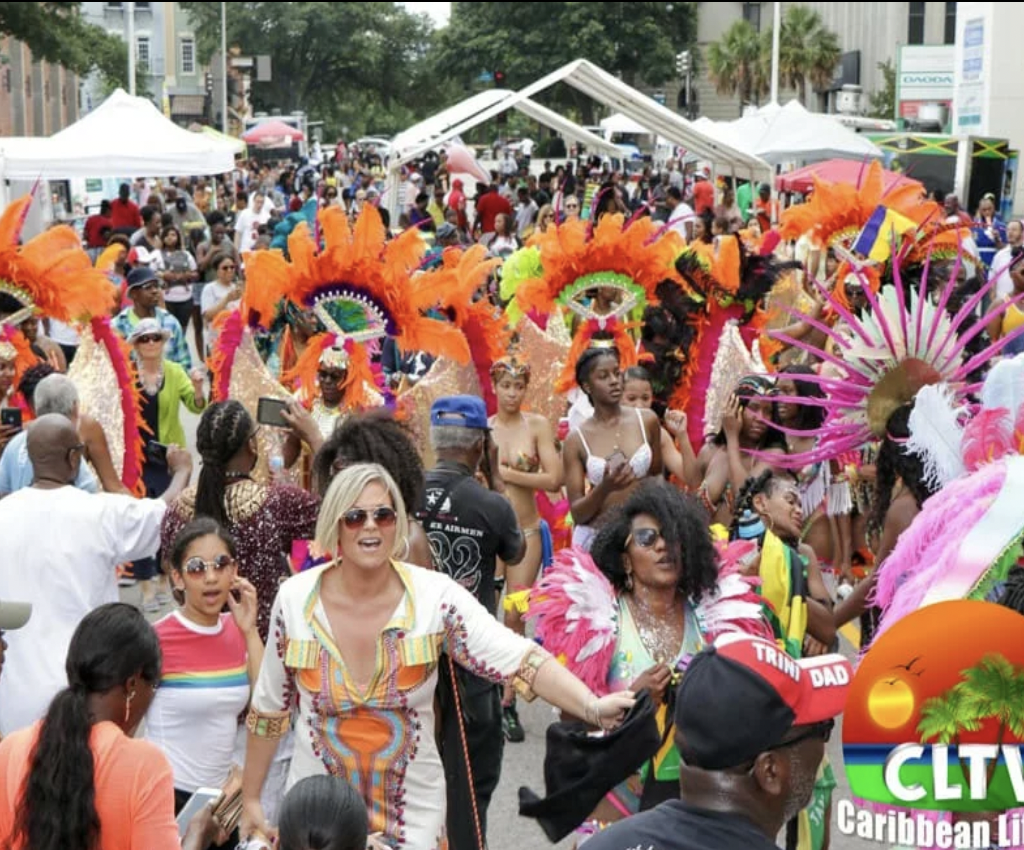 You can't have a carnival without a carnival parade! This year, the SCC will host two bands: Karikolorz Mas and Pandemonium Mas.
The carnival parade will take place on June 11th in downtown Columbia, leading to Main Street's block party. There will be live entertainment, food, and other vendors.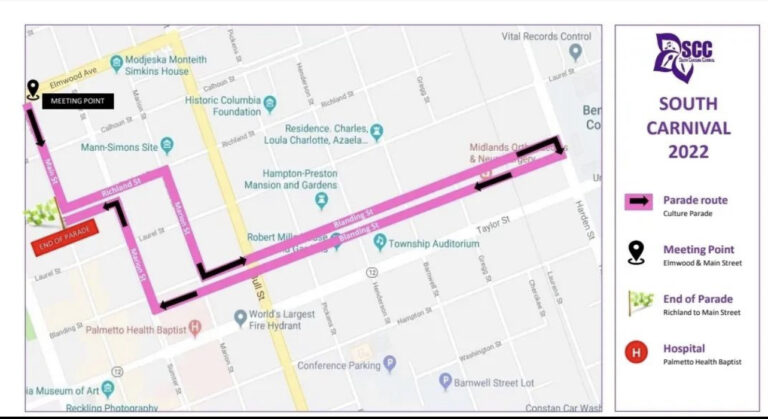 Getting to South Carolina
If traveling by air, you can fly directly into CAE, a 10-15 minute drive to Columbia, SC.  It is by no means an international airport, and you may find the prices to be a bit higher.  Alternatively, many people will fly into Charlotte International Airport (CLT) and take a 90-minute drive to South Carolina. I use Columbia Charlotte Shuttle Service frequently when I don't feel like enduring that drive to and from the airport.  Many people overlook Augusta (AGS) airport, a 45-minute ride to Columbia, SC.  
To get around, ride-share apps such as Uber, Lyft, and Taxis are available to you.  Also, look into the Comet Bus system and Soda Cap Connector to ride around the area for as low as $2.
Where to stay for Carnival
Since most festivities take place downtown, I highly recommend staying in that area.  West Columbia is literally on the other side of a bridge, and you may find cheaper accommodations.  Feel free to use the booking.com widget below!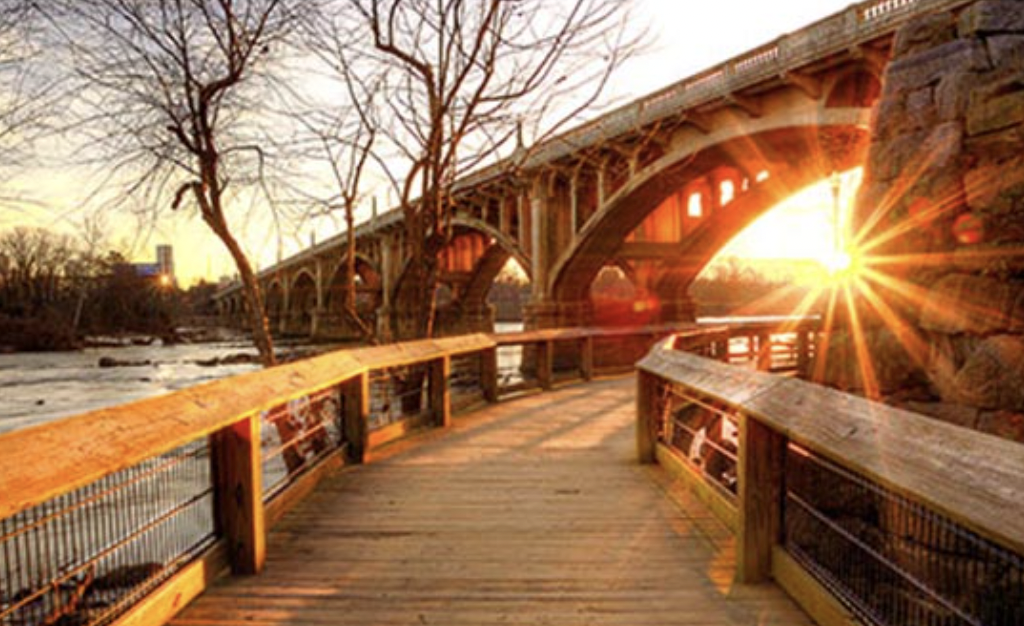 Columbia, SC sits on the banks of the Congaree River and its surrounding areas are filled with lush greenery, tranquil countryside and the Congaree National Park. Columbia is an intriguing and lively city filled with history dating back to 1805.  I love taking walks on the Three Rivers Greenway Trail.
There are several attractions worth visiting, including the South Carolina State House, which was once home to America's Supreme Court, as well as the Columbia Museum of Art.
South Carolina carnival is only a few steps from me, and I can't wait to indulge in this local experience! Hope to see you there!
But before that, you will see me at Atlanta Dekalb Carnival.  For more information, click here.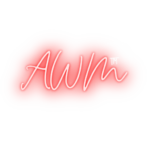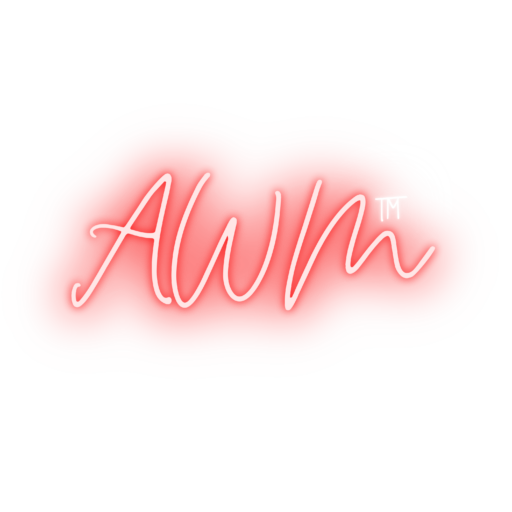 caribbean carnival