The first time I decided to play mas, I was confused about many things.  My biggest question was, how do you participate? Is it like a secret society or club I had to apply? Do I get "voted in" to participate with a band? Luckily, my twin sister guided the way and answered many questions.  If you are a carnival newbie, you might wonder: How do you buy a carnival costume? No sweat, I got you!  In this blog, I cover how to register with a mas band, along with important terms you should know.  At the end of this blog, you get answers to some commonly asked questions.
How to buy a carnival costume, where to buy a carnival costume, buy a costume for carnival, therefore, and so, alternatively, comparatively, in contrast, but, furthermore.
Attending/watching band launches
To keep track of upcoming carnival events, check out my carnival calendar here and check back regularly for updates.
Band launches are the official kick start to an event's carnival season, and so I strongly recommend you attend one if you can.  You can attend a band launch live, or sometimes the band will broadcast the event over social media.  Alternatively, many bands release virtual launches, which are videos of their options for that year.  There are pros and cons to the different types of band launches that I covered at a previous blog here. Once the band launches, you can register on their website.  Alternatively, you can register in person at a mas camp.
Registration includes your choice of a costume, with a NON-REFUNDABLE deposit.  And so, it's important to make a solid decision.   In the United States, I have seen deposits as low as $100.  Comparatively, some bands may require up to 50% of body wear.  Some may require an initial deposit, plus all feather options paid in full.   If you register early, you will have more time to pay the costume in full over time. Consequently, if you register close to the event, you may be required to pay for the costume in full. 
Note: if you do not pay your costume in full by the deadline, your costume is subject to resale, and your funds may be forfeit.   All things considered, the key is communicating with your band, even when you are behind on your payments.  
A word about committee-member registration: This is common outside the United States, especially Trinidad.  You will be given a contact name and email of a committee member for a section you want to register with.  Cross your fingers and hope they email you back to allow you to register for the section and option you want.  In light of this, I can't deal with this stress and prefer to register with bands with less restrictive registration process.
If you are playing mas for the first time, the options on the website may overwhelm you.  But once you get the hang of what everything means, you will find that picking your costume can be a lot of fun!   Listed below are types of costumes that may be available for you to purchase, listed cheapest to most expensive:
Monday Wear: A bodysuit option with little to no frills.
Backline: Backline costumes will be the cheapest and may have little to no feathers.  The baseline of a backline costume is a panty, bra, headband with simple leg and arm pieces.  Backline costumes are not only budget friendly, but there's a saying that "backline has more fun".  This is because backline masqueraders can move more freely without the consideration of wearing feathers.
Midline:  Midline costumes are a little more and are a good "in between" that like to have a little more pizazz to their costumes with some feathers.  You might see a small feather backpack or collar.  Similar to the backline costumes, you have a lot of freedom of movement, just a little more bling.
Frontline: Come through, diva.  Frontline costumes typically have a lot of bling, with large feather backpacks and headpieces.  Frontline masqueraders really bring a section's theme to life with the larger backpacks.  Unlike backline, frontline masqueraders may experience restriction of movement.  Additionally, navigating through crowds might prove a challenge, and not everyone is understanding or polite when they get slapped in the face with feathers.  So be sure to walk sideways.
Ultra/Premium Frontline: Just extra!!!! Make it frontline, but on steroids.
Individual: Show up and show out, and expect to take lots of pictures!. The leader of the pack. This option is usually limited to 1-5 masqueraders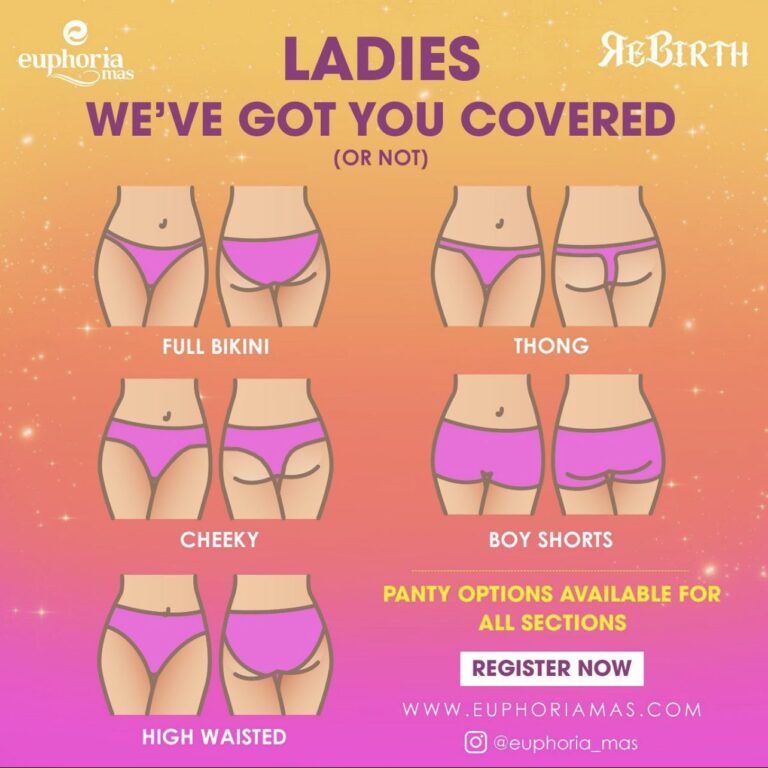 A common myth about carnival is that you have to be "skin out".  Not so! By all means, carnival is not only about freedom of expression, but also about feeling good about yourself and what you are wearing.  For this, all the bands offer you different coverage options.  If you are looking for a coverage option you do not see on the website, I encourage you to contact the band directly for availability.
Monokini: A monokini is known as a one-piece bikini.   Over the past year, I have seen some absolute FIRE monokini options, and even wore one as a section queen for Miami Carnival 2021.   In other words, don't sleep on monokinis. I believe it will be the trend in the years to come.
High-waist panty: Some masqueraders have no issues wearing a two-piece bikini set, but feel they look best with more of their stomach covered. High-waist panties provide coverage at or over the navel.
Cheeky: A panty coverage option that doesn't expose the entire buttocks, just a little cheek.  This might also be called a "Brazilian cut".
Slingshot: A panty option that provides coverage to just your intimate areas. This option is likely a thong or string in the back.
Wire Bra: This type of bra starts with 100% wire, and comes in various styles.  Because of the materials they are made from, it is considered more expensive than a regular bra.
Registration terms you should know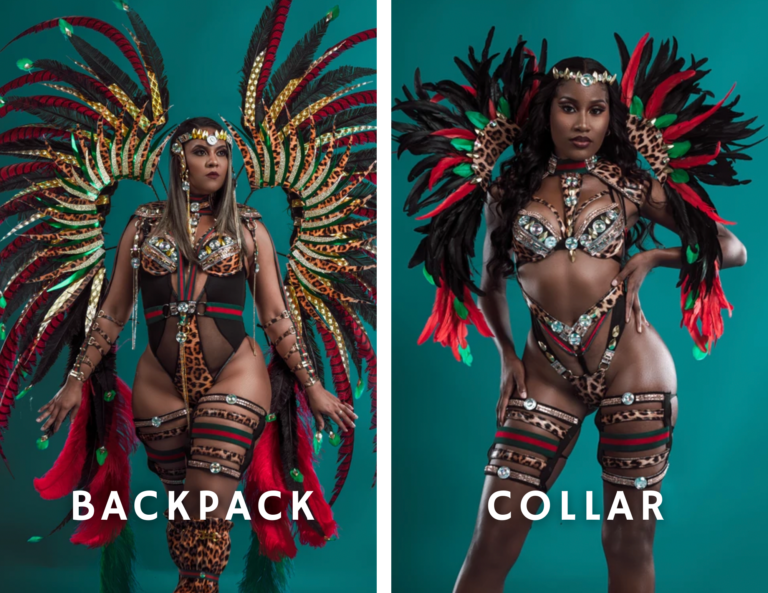 Backpack: When you hear the word "backpack", you might think about what you wear to school or work.  When it comes to playing mas, a backpack is an arrangement of feathers, gems, trim and/or other materials that starts with a wire frame. It rests on your shoulders and is secured to your back.
Collar: An arrangement of feathers, gems, trim and/or other materials that starts with a wire frame.  The wire frame usually rests on the front of your chest and wraps around the back of your neck to the other side of your chest.
Add On: Some bands offer a costume with the feather options included.  Some bands will offer "add ons".  The add on feature allows you to purchase the base (body wear) of the costume and add options a la carte.  This option can make your experience more budget friendly if you want to be in a frontline costume, but can't afford (or don't want to wear) large feather pieces.  Add on options can include feather headpieces, leg pieces, collars, and backpacks.
Mas Camp: A location where bands can work on producing or selling costumes.  Alternatively, the mas camp may also serve as a distribution point.
Frequently asked questions
Will the band ship my costume to me?
– No, if you are participating in carnival, you will have to pick up your costume at a designated registration location/date/time.
I don't want to participate in carnival, but I want a costume for (insert reason here). Where can I find one?
– Some people buy costumes for uses outside of Carnival, such as birthdays, weddings, maternity shoots or other occasions. Some places to purchase carnival costumes would include Etsy, Poshmark, and Amazon.  Alternatively, you can commission a designer to make something special.  Check out my blog here.  Another way to get a costume is to register for a carnival near you. I would prefer you get the road experience!
I registered, but now I can't go.  How do I get my money back?
– Unfortunately, deposits toward a costume are non-refundable. A great option is to contact the band directly to see if they can help you resell your costume. If it's paid in full, you can have someone collect and ship it to you.
I can't get my costume at the distribution time/date.  What do I do?
– Contact the band immediately. Unfortunately, some bands may sell your costume if you do not pick it up.  You can arrange an alternate time to collect it, or have someone pick it up for you.
If you paid your costume in full, the band might be willing to ship the costume to you at your expense. Be sure to contact them to find out what your options are.
Have fun selecting a costume!
I hope this gets you started on your journey with getting a carnival costume!  If you have any questions, be sure to hit me up at hello@americanwinesmatter.com.  Alternatively, I am highly responsive in my DMs on Instagram.  Have fun picking out your costumes! I can't wait to see you on the road.